Survival '64
Somewhere in Scotland - Easter 1964
(We should have been in Cyprus but EOKA decided to stage a comeback when they heard that 89 were descending on the island, so it was considered too risky for 89! The net result was that, instead of getting shot at, we nearly froze to death in Scotland!)
The following colour photographs were recently recovered (March 2018) by former Flight cadet Duncan Swift - exactly 54 years after the event!
The photographs feature Yankee 1 section of the 89 Entry Scotland detachment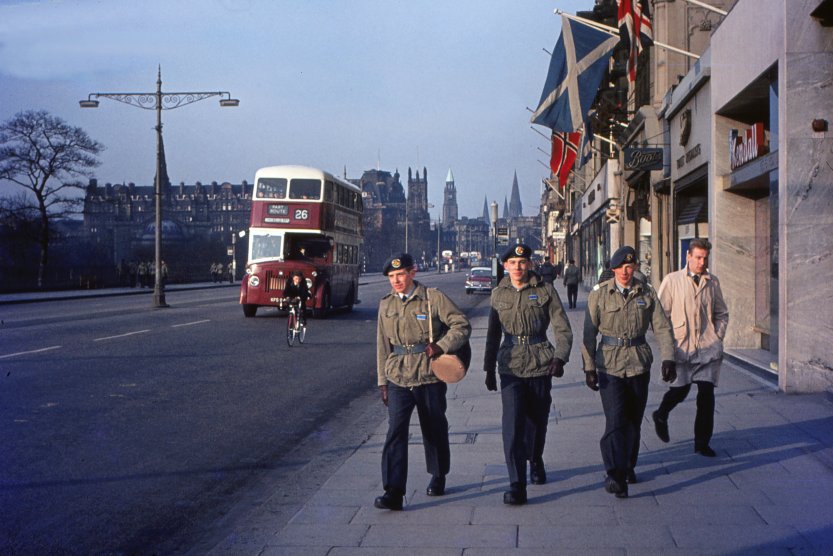 Flight Cadets Adrian Jones, Tony Steele & Dave Hayward marching down Princes Street after a sleepless night on the train from Grantham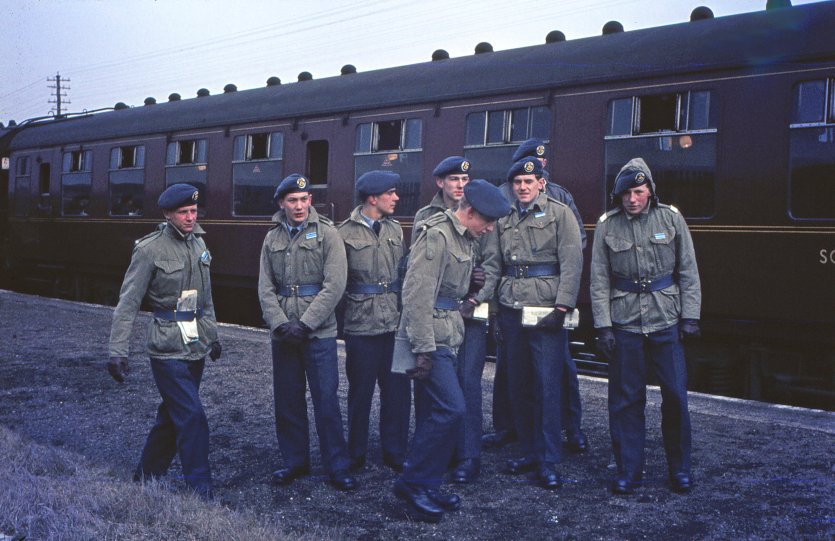 The Yankee 1 team, looking smart for last time in two weeks, assemble at Dalwinnie station - left to right Jerry Pook, Colin Humpheries, Les Quigley
Tony Steele, Adrian Jones, Mike Laundy, Paul Buckland (hiding!), Dave Hayward (nithered!) - Duncan Swift (out of sight behind the camera!)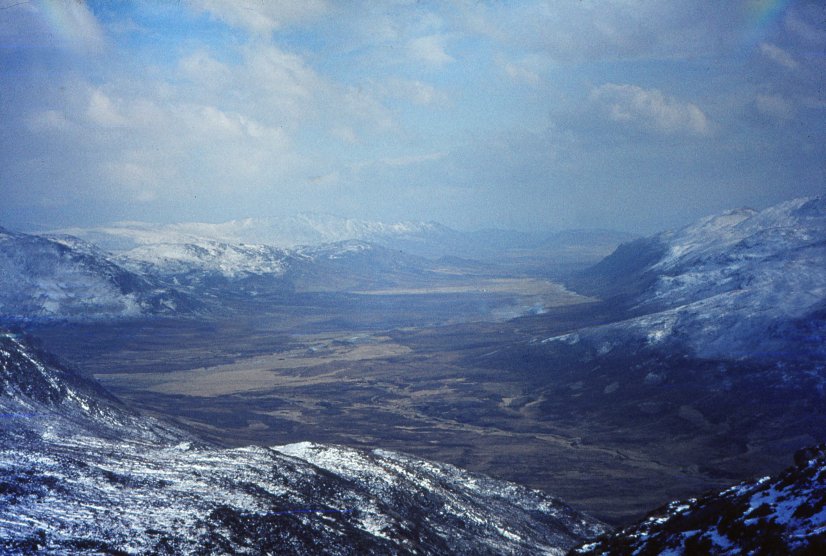 Not the sun kissed hills of Troodos in Cyprus, that we expected when we joined, but the snow covered Grampians in Scotland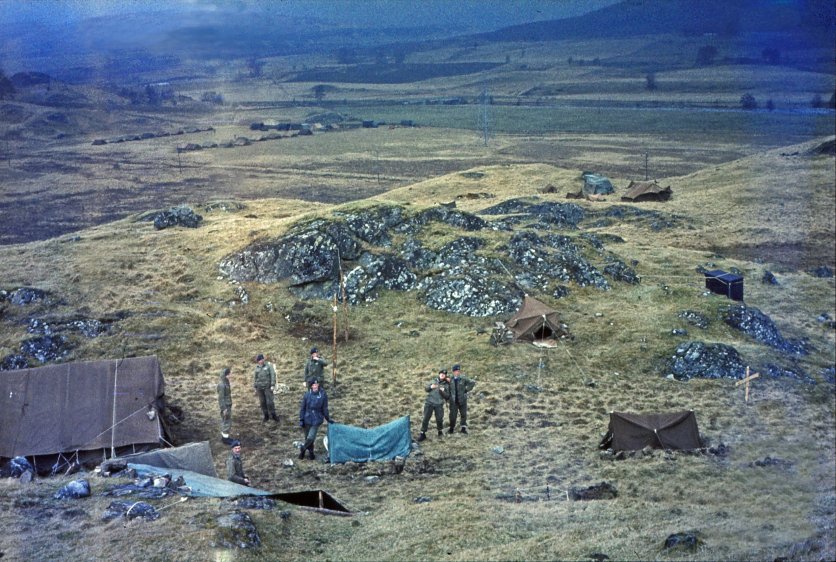 Ever resourceful, Yankee 1 soon found some rent free land on which to erect their newly acquired detached homes!
It was obviously rent free since it was next to a burial plot!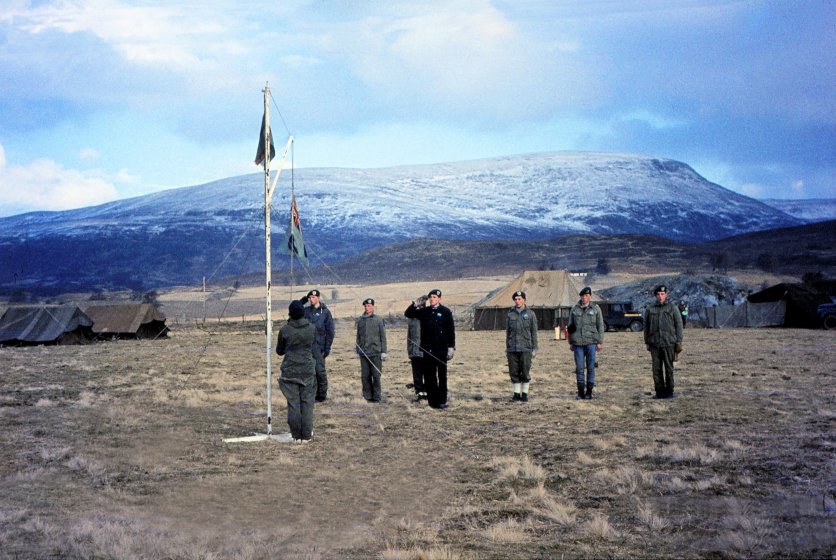 Paul Buckland & Mike Laundy take the salute at flag raising supported by a less than smart guard of honour
On the day of the cross country treking race Yankee 1 chose a short cut over the tops of two mountains -
as well as winning the race Yankee 1 came last as we were the only ones to finish - All the other sections were
called off because of the weather conditions - No one could find Yankee 1 because of the snowy conditions!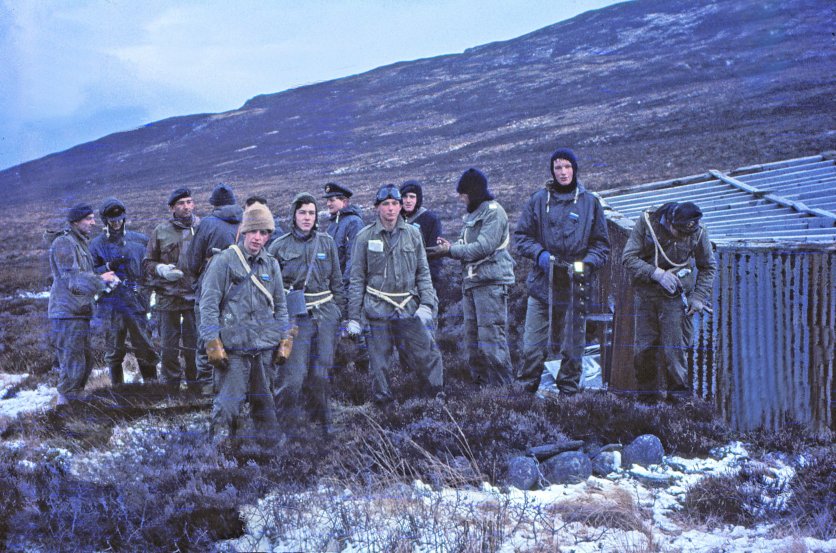 Back down the mountains Yankee 1 were met at the RV by some very worried Officers - as well as getting a bollocking for taking dodgy routes
Yankee 1 won a night out in the "Laggan Dragon" with free beer all round - well worth a bollocking!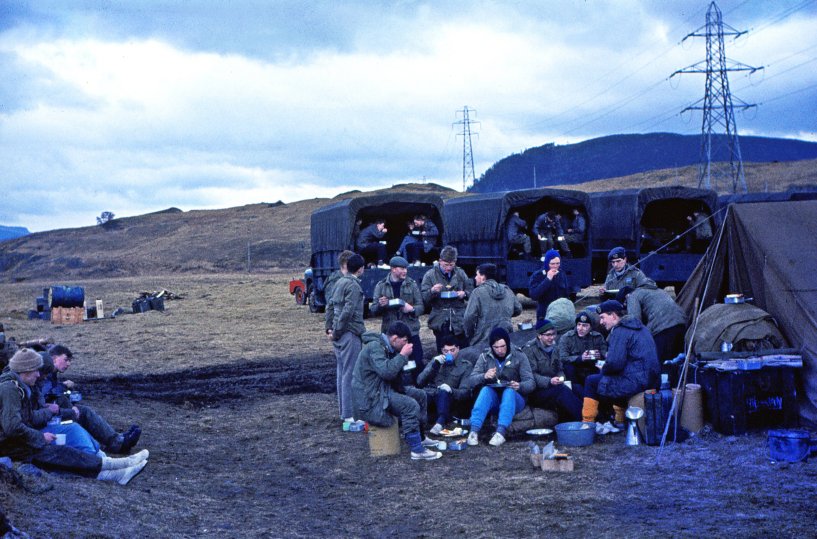 All good (and bad) things come to an end - so after two weeks of torture, and being reduced from smart Flight Cadets,
to a rag tag "Joe Soaps" army we grabbed some food and headed back to Cranwell for some well earned leave
Thanks to Duncan Swift for finding & resurrecting the photographs
---
The following are a collection of "survival camp" photographs and activities recorded by other Flight Cadets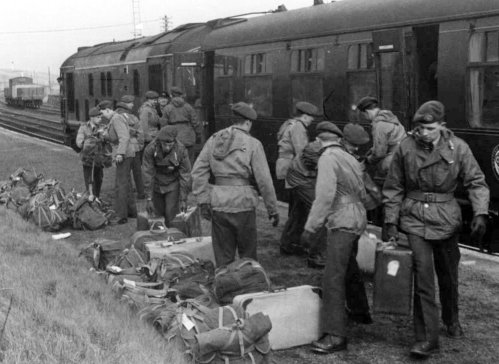 Arriving at Dalwhinnie Station -14.32 Hrs Thursday 12th March 1964
(Note - we all have back-packs - not Malc Caygill - he thinks he's off to the Dalwhinnie Hilton with his big case!)
"The Dalwhinnie Hilton"?

Stalag Luft 89 - and these are the officer's quarters!

Our quarters - complete with ensuite facilities!

i.e. the hole seen bottom right!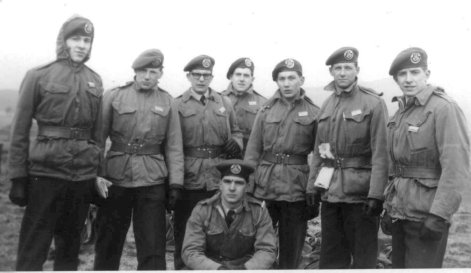 "Yankee 1 Escape Committee" (less Paul Buckland who took the photo)
(left to right) Flight Cadets Steele, Hayward, Swift, Laundy, Humphries, Pook, Jones - (Front) Quigley
We soon got to do jolly japes ....
like racing with heavy packs on our backs & building tree houses for 10 men
How is it you can never find a Health & Safety Inspector when you need one!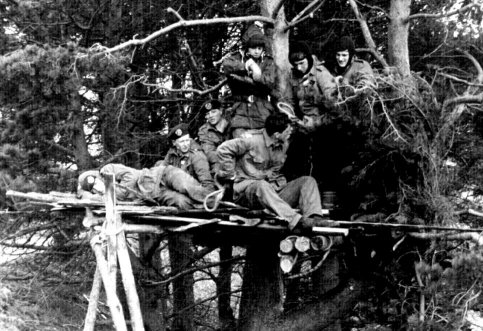 Have we made it big enough? Or should we start again as we're a bit short of sleeping space?
Malc Caygill and Dick Slogrove struggling up hill with the days whiskey ration!!!

Jock Reid

Only a Jock would try to chop wood with the blunt end!!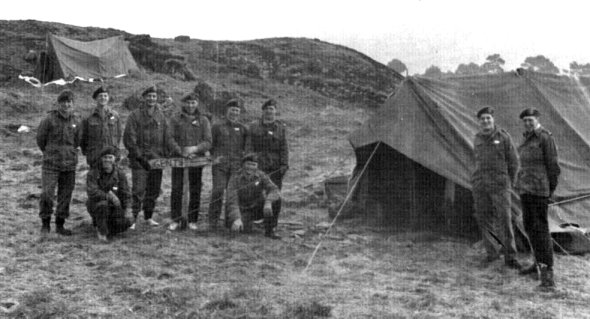 Some were even proud of their "Gents"?
Lost again??

Right

(Left to right)

Concerned!

Dick Slogrove,

Paddy Pyper,

Simon Coy,

Worried!

Tony Ware,

Who cares?

JC Newland,

Dave Archbold, Malc Caygill
Now this is what you call being lost!

Left to right - Tony Steele, Jerry Pook (Is that an SAR chopper that I hear?), Adrian Jones, Mike Laundy, Paul Buckland (Anyone seen a Sherpa around here?), Dave Hayward, Les Quigley (I knew all along we were going to the Alps that's why I brought my shades and sun tan cream!)
There was, however, no escape from inspections & parades - and you even had to shave.....

King Rock to Little Rock - "Tell them to trim that bush it's not symmetrical!"
| | |
| --- | --- |
| Duncan Swift | |
It was a relief to get back to some proper bull!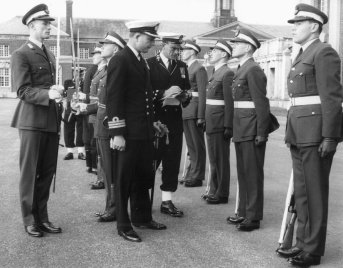 ---
More pics awaited - in the meantime click here to return to the top