For the Korean War site by Simon Coy

Email your photos & stories
Cranwell
LINKS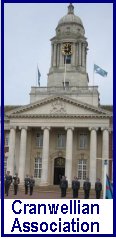 89A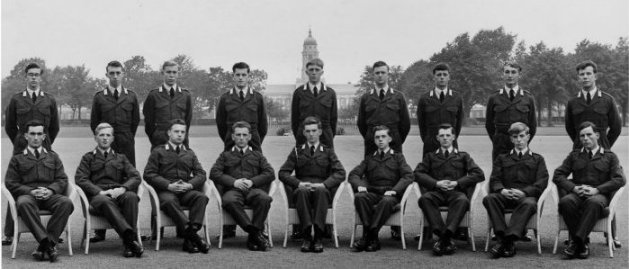 Left to Right - Back Row - Roger Cresswell, Doug Wilcox, Mike Geary, Roger Thomas, Russ Pengelly, Ron Kennett,
Jerry Pook, Graham Horder, Tony Ware
Front Row - Black Robertson, Ian Clark, John Mazurk, Barry Chalkley, Dave Archbold, Chel Hibbert,
Alan Ferguson, Adrian Jones, Pete Squire
(Have you ever seen such a miserable looking bunch? - on death row maybe?? -
but this was the start of a wonderful life!)
---
RIP
Roger Thomas

killed in an aircraft accident on 25th March 1969 flying a Canberra with 13 Squadron

Russ Pengelly AFC

killed test flying Tornado prototype PO8 over the Irish Sea 12th June 1979

John Mazurk

killed in a car accident in Middle East

Peter Squire GCB, DFC, AFC

Died unexpectedly at home on 19th February 2018
---
Falklands War Veterans
Air Chief Marshal Sir Peter Squire

GCB DFC AFC ADC FRAeS RAF

The son of an RAF wing commander, Squire was born on October 7, 1945, around a month after the end of the Second World War.

In 1966 he was commissioned as a 20-year-old into the Air Force, where he would serve for the next 37 years.

By the following year, he had been promoted to flying officer and was sent to fly Hunter jets with No.20 Squadron in Singapore, while he flew Harriers with No.3 Squadron in Germany from 1975.

A year after being presented with the Air Force Cross in the 1979 Birthday Honours - one of countless awards he would receive in his long career - Squire was promoted to wing commander, before being appointed Commanding Officer of No.1 (F) Squadron, flying Harriers, in 1981.

In 1982 Peter led members of this squadron, including Jerry Pook another former "A" Squadron member, in action in the Falklands campaign, where he was to survive a number of close brushes with death. Peter (and Jerry) transferred from the Atlantic Conveyor to HMS Hermes a few days before the former was sunk by two Exocet missiles, while on one occasion during bombing missions a bullet passed through his cockpit and temporarily distracted him

He was also forced to perform a crash landing in June 1982 after an engine failure, while later in the year the same problem forced him to eject from his aircraft.

Four out of the 10 Harriers in his squadron were ultimately lost, three succumbing to ground fire and one after an engine failure had led to a heavy landing.

Peter entered the record books twice during the conflict. He became the first member of the RAF to launch a laser-guided bomb in combat, while his squadron was the first to operate in a combat role from a British aircraft carrier since the Second World War.

He was awarded the Distinguished Flying Cross for his actions in the Falklands.


After several further promotions, Peter was appointed Chief of the Air Staff in 2000, before being named Knight Grand Cross of the Order of the Bath in the New Year Honours list the following year. During his time in post he advised the British Government during Operation Veritas, the UK military contribution in support of US-led action in Afghanistan in 2001.
He then assisted with Operation Telic in Iraq, where the UK helped secure air superiority and carry out missions like targeting key Iraqi command and control centres.

After retiring in 2003 he joined the Royal Air Force Volunteer Reserve, before serving as Chairman of the Board of Trustees of the Imperial War Museum from 2003 to 2011.

He was also Vice-Chairman of the Board of the Commonwealth War Graves Commission (CWGC) from 2005 to 2008 .
Sadly Peter died unexpectedly at home on 19th February 2018
---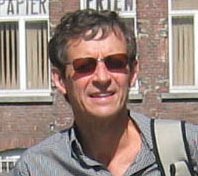 Jerry Pook DFC, MBE
The citation for Jerry's DFC is as follows ...
Award promulgated in the London Gazette dated 11th October 1982

Distinguished Flying Cross

Squadron Leader Jeremy John POOK
Royal Air Force

Squadron Leader POOK of 1(F) Squadron had been nominated mission leader throughout the invasion phase, conducting 23 attack sorties. He led
missions on 21 and 27 May 1982 which destroyed probably four Argentinian helicopters, Squadron Leader POOK personally destroying probably two Pumas
on the ground despite SA and SAM defences. He also led two successful attacks on Goose Green in the face of very heavy anti-aircraft fire, the
second against a large calibre gun which was destroyed causing heavy casualties; this helped 2 Para Regt obtain the surrender of the troops in
that area. On 30 May 1982 Squadron Leader POOK's Harrier was hit while attacking a gun position on Mount Harriet. He nevertheless pressed home his
attack but, as a result of system damage to his aircraft, he had to eject over the sea 30 NM from HMS HERMES when returning. His determination was
undiminished by the experience and he has continued to display considerable courage and great professionalism.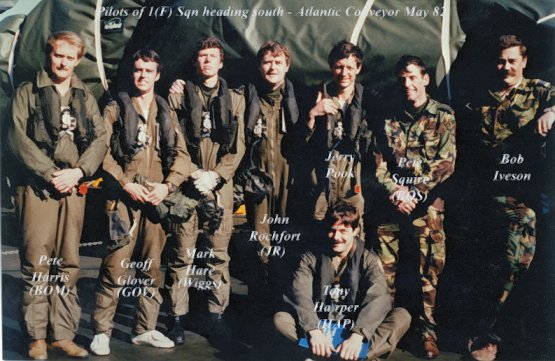 1 Squadron heading for the South Atlantic on the ill fated Atlantic Conveyor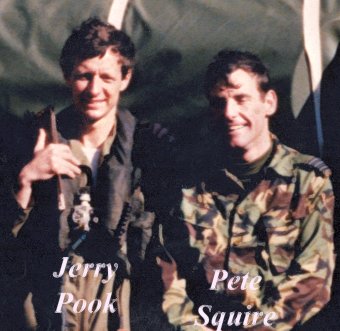 With Pete Squire as Squadron Commander and Jerry as Flight Commander
the Argies had as much chance of scoring as we did at LTC on a Saturday night!
Member of the British Empire

Jerry was later awarded the MBE for his training work at the Tornado Trinational Training School at Cottesmore.
Jerry couldn't make the 40th reunion, but sent his regards to all.
Jerry had a open heart surgery 10 years ago but as you can see, despite everything,
he is keeping him fit and well. (He doesn't look any different than he did in 1966- See archives)
Jerry is now working for the MoD as a Civil Servant Instructor on the Harrier GR7 Flight Simulator at Wittering
---