RAF College Cranwell September 1963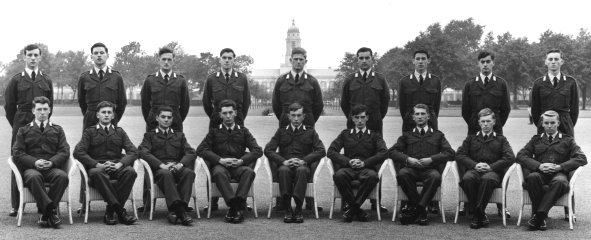 Left to right Rear - Mike Thompson; Simon Coy; Ron Shimmons; Mike Laundy; Paddy Pyper; Bill Davis; Tony Steel; Dick Slogrove; Geoff Dryland;
Front - Frank Whitehouse; Nigel Griffiths; Henry Middleton; Colin Humphrey; Keith Cartlidge; Andy Griffin; Pete Nicholls; Geoff Howard; Mike Richardson
---
RIP
Frank Whitehouse

killed in an aircraft accident at Tengah on 27th July 1970 flying a Lightning with 74 Squadron.

Keith Cartlidge

killed in an aircraft accident Oct 1978 flying a Puma in the Middle East

Mike Thompson

killed in an aircraft accident 1983 – flying a Lightning out of RAF Binbrook
---
"THE BLADES"
SOUTH BRICK LINES 2004 ANNUAL DINNER
"The Blades", survivors of 89B meet annually to maintain those friendships built up over 3 years at Cranwell. This years reunion was held on Saturday 6th November at The George Hotel in Wallingford, Oxfordshire and judging by the hangovers at breakfast, it was a great success.

From this..

The "South Brick Lines" 1963

Ron Shimmons organised it, and in addition to Shimmo, those present included Henry Middleton, Richard Slogrove, Tony Steel, Simon Coy, Andy Griffin, Paddy Pyper and Nigel Griffiths plus Les Quigley of C Squadron.

To this!

The George - Wallingford 2004

Relaxing after the Port but before the Champagne was attacked by a sabre ....
Les, Richard, Nigel, Ron, Simon (upfront), Paddy (trying to get a look in), Henry, Tony, Andy
The stories and recounted memories of very happy days and unprintable incidents flowed amidst constant barracking....

The food and service was excellent and despite large volumes of alcohol being consumed the plan was to keep the drinks bill below that for food and accommodation -

The previous year the "bar member", Simon, had managed to order the most expensive wines in the house causing the drinks bill to exceed the food and accommodation bills combined!!
The jokes flowed almost as fast as the drink ....

At midnight a general retreat was sounded ....

to the bar...
| | |
| --- | --- |
| Old habits die hard - It wasn't long before the boys were "shooting lines" - chatting up the bar maid .... | - discussing "UPs" .... |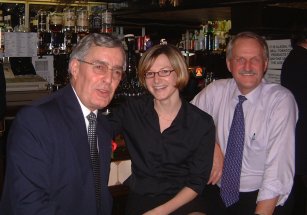 And eventually posing with the lovely young lady. (Who turned out to be a French speaking lawyer from Quebec, over here to practice her English - she couldn't have found better teachers!!!).... Richard where is her hand?
Sadly we're not 20 again - so we never got round to putting those "UPs" into practice - we retired to our rooms at around 02.00 hrs - ALONE!!!!
---
2003 Rememberance

Richard Slogrove places a cross in remembrance Mike Thompson, whilst Malcolm Coe moves away having laid a cross for his old cross-country running colleague Keith Cartlidge
Paddy Pyper places a cross in remembrance of Frank Whitehouse
---
Frank Whitehouses Ashes were interred at Cranwell
Although Frank was killed out in Singapore his Ashes were interred at Cranwell. Nigel Griffiths was the only 89 Entry officer then serving at RAF Cranwell so it rested on him to perform the ceremonials on behalf of the Entry.
Nigel recalls ..... "There had been a funeral and cremation in Singapore very soon after the Lightning fatality at Tengah, and the ashes were then flown back to UK in a small black urn for a second ceremony at Cranwell. After the service at St Michaels, the congregation all walked the mile or so to the village, along with part of the College Band, slow marching. There was a bugle call at the burial place in the village churchyard.

The family had been at the Singapore funeral and then came again to the final laying to rest. There was a lot of grief and emotion but they were all immensely proud of him. It was very moving."
---
Our thanks to Nigel for recalling this event. Did anyone see a plaque or any other reference to Franks' burial when they visited the graveyard?
---
Amazingly, amongst the hundreds of headstones we found Frank Whitehouse's headstone. We knew Frank's Ashes had been returned to RAF Cranwell from Singapore but did not realise he had a headstone. We had missed Frank's headstone in 2003 but now made up for this omission by placing his wreath and flowers on his grave,.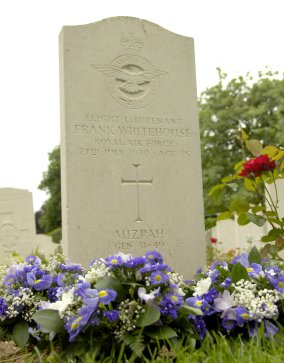 Frank Whitehouse's headstone in Cranwell village cemetery

---
Mike Thompson died in an aircraft accident in 1983 whilst he was flying a Lightning out of RAF Binbrook. Derek North, former OC Ops at Binbrook, visited Mike's grave in 2010. Mike had been buried in Binbrook parish church with full military honours.
Derek took the photograph below.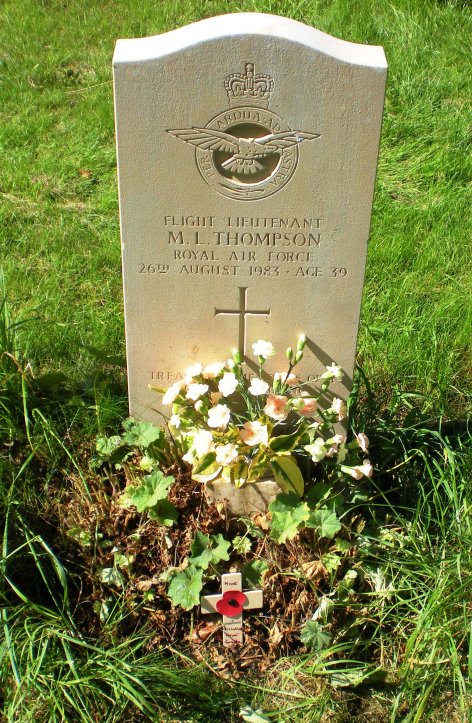 ---
Click here to return to the top