Email your photos & stories
For the Korean War site by Simon Coy

Cranwell
LINKS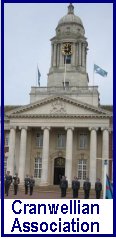 89 Entry RAF College Cranwell
2016 (50th since graduating) 2013 (50th since joining) 2008 (45th since joining)
2006 (40th since graduation) 2003 (40th since joining)
---
Individual Squadron Reunions & Anniversaries
Click on the Squadron for reunion details - Click here for anniversary celebration reports
The 2017 "A" Squadron turn out
Report from Alan Ferguson -
Below are some photos for the "89A Chapter" . It was held on Sunday 5th November 17 at the Wroxton House Hotel, Banbury. Those attending were
Black Robertson; Alan Ferguson: Henry Middleton: Barry Chalkley: Peter Squire: Peter Crispin: Ian Clark: Tony Ware: Chel Hibbert .. a fine bunch of warriors ....
This was the third 89A Reunion Dinner but the first one that has included a guest - in this case Henry Middleton from 89B.
When paying the bills before departure an ex-CAS noticed that

all the drinks had been billed to Alan Ferguson

but being an honest soul, as you would expect from a very senior officer this was corrected before the diners scattered to the four winds never to be seen again .. almost the 89A version of "doing a runner" ...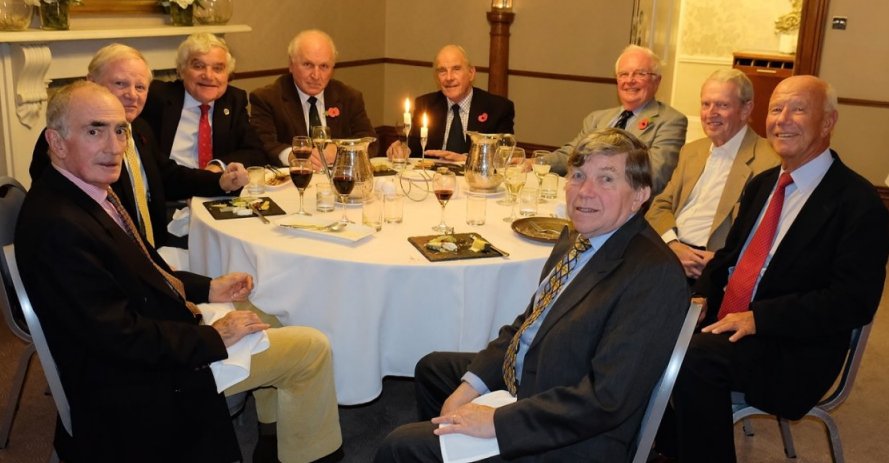 Clockwise (around the table) -Black Robertson, Alan Ferguson, Guest Henry Middleton (B Sqn), Barry Chalkley, Pete Squire, Pete Crispin, Ian Clark, Tony Ware, Chel Hibbert
Left - Black poised to grab Henry's drink

Right - Barry shouts out a warning whilst Chel admires the move

Below - Boris seems to have gate crashed, so the two Pete's give him a hard time!
---
89A - October 2015
Ensuring that they stay ahead of the game A Squadron were first to get their re-union photos to 89 News, however, in true military tradition they kept the location secret, holding it "somewhere in England". They also kept their activities secret, but we are grateful to Tony Ware for smuggling out photographs of the event - their 2nd annual re-union. (They did supply photographs last year but again failed to supply any support information so the editor (like all newspaper editors) has just had to make up a story!)
Those attending were Barry Chalkley, Ian Clark, Roger Creswell, Peter Crispin, Alan Ferguson, Black Robertson, Peter Squire, Tony Ware. Jerry Pook and Chel Hibbert were also schedule to attend but were beset with illness and personal problems. Nevertheless, it was an excellent turnout and highly commendable after 50 years apart

Right - (Facing) Alan Ferguson, Pete Squire, Pete Crispin, Barry Chalkley

Below - (Facing)) Ian Clark, Roger Cresswell, Alan Ferguson, Pete Squire

Below Right - Black Robertson & Pete Squire
Right - There's always someone taking the pith at a Squadron party!

Below - Alan Ferguson, Ian Clark, Barry Chalkley
Thanks to Tony Ware for sending the photographs (and we assume - taking them - since he's not on any)
---
---
89B's 2018 Bash
89 B Squadron held their annual reunion on 27th October at their regular venue The George at Wallingford. The Squadron mustered 8 former cadets, Simon Coy, Geoff Dryland, Nigel Griffiths, Mike Laundy, Henry Middleton, Paddy Pyper, Ron Shimmons & Tony Steele. In addition they had a guest Barry Chalkley from A Squadron. Apologies were received from Richard Slogrove who was looking after hisl wife who was seriously ill.* (See note at the end of this report). Despite one or two members suffering from the health problems that emanate from a mis-spent youth, as usual a good night and a good breakfast was had by all. You will see from the photographs that everyone looks amazingly well for a bunch of 73/74 year olds! All with their drinking arms in operational working order.
Geoff Dryland was both photographer and caption writer so we have excellent up to date photographs of both the people and the event.....
| | |
| --- | --- |
| Simon, I can't get this to work.......try taking the lens cap off | Simon demonstrating how he rolls the spaghetti on his farm. |
| | |
| --- | --- |
| Ron can't stop laughing at Paddy's joke | Geoff and Nigel enjoy the joke but Barry doesn't get it |
| | | |
| --- | --- | --- |
| Tony and Mike looking at their new pension plan | Look Barry, this is our Do so only we get the drinks | Barry gives the thumbs up to another beer |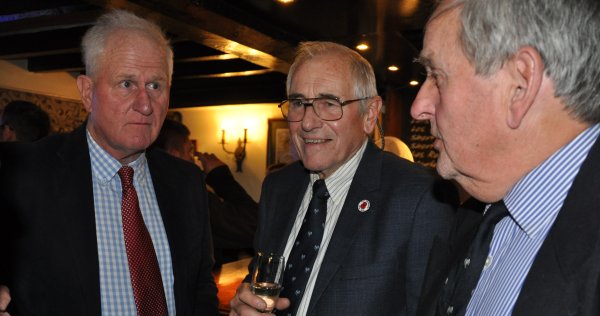 Did you drop that one
And the morning after the night before...
| | |
| --- | --- |
| Nigel still boasting that it's this big | Henry presents Barry with the bill for the "Bash" |
Thanks to Geoff for being an outstanding 89 News reporter and photographer..
* We're sorry to have to announce that Richard's wife died two weeks after the bash. 89 Entry's, and in particular B Squadron's, condolences go out to Richard and his family.
----------------------------------------------------------------------------------------------------------------------------------------------------------------
89B's Annual Bash 2017
Report from Geoff Dryland - "The reunion took place on 28 October with a creditable 10 members of "89B" Sqiadron attending -. Those attending were Simon Coy, Geoff Dryland, Andy Griffin, Nigel Griffiths, Mike Laundy, Henry Middleton, Paddy Pyper, Ron Shimmons, Tony Steel, & Richard Slogrove. This years guest of honour was someone from the "other end", Steve Wrigley - "D" Squadron!
We also had an extra guest this year. Simon Coy's brother in law (Roger Green) was enroute back to Oz, so we agreed to give him supper in return for countless rounds of beer!! It just happens that Roger's father was a previous Station Commander and Andy Griffin knew him so there was a tenuous link. Is it me or does he look a bit like Gerry Adams?"
| | |
| --- | --- |
| Guest, Roger Green, Nigel Griffiths & Andy Griffin | Simon Coy managing to command the scene with honoured guest Steve Wrigley (89D) in deep conversation with Richard Slogrove |
| | |
| --- | --- |
| Left to right - Richard Slogrove, Guest Roger, Andy Griffin, Paddy Pyper (describing the size of...? to) Tony Steel | Left to right - Paddy Pyper, Tony Steel, Ron Shimmons, Mike Laundy and Geoff Dryland (with his eyes on the waitress) |
| | | |
| --- | --- | --- |
| Henry Middleton & Simon Coy | Tony Steel & Ron Shimmons | Steve Wrigley guest fro 89D |
It wasn't long before the troops returned to the bar for the last rounds a more relaxing

Left to right - Nigel Griffiths, Simon Coy, Henry Middleton, Paddy Pyper & Geoff Dryland

Nigel & Geoff

Ron & Mike
---
Geoff Dryland, who supplied all 89Bs photographs, assures us that they were first to hold a squadron reunion this year just a few weeks ahead of A Squadron. He also reported that they are definitely getting older since they all arrived in the late afternoon, did not get a cup of tea on arrival, and then had to lay down before getting dressed for dinner in a hurry!

The "B" team at dinner - (Left to Right) - Andy Griffin, Jerry Pook (Guest of Honour from A Squadron), Dick Slogrove, Mike Laundy,
Henry Middleton, Simon Coy, Nigel Griffiths, Paddy Pyper, Tony Steel, Geoff Dryland
| | |
| --- | --- |
| Mike Laundy & Tony Steel | Henry Middleton & Jerry Pook |
Geoff reports that "Not many funny comments I'm afraid - Only the one came from Mike Laundy whilst taking his soup. "Waiter there's a turd in my soup". Then Jerry Pook with his napkin to his mouth "Oh my God I had one of those, I thought it was a gherkin". Considering that Geoff reported few funnies, there seems to be an awful lot of happy faces.......
The smiles soon returned to thoughtfulness when the current state of the RAF was discussed...
| | |
| --- | --- |
| Paddy Pyper, Nigel Griffiths, Andy Griffin | Dick Slogrove, Nigel Griffin |
| | |
| --- | --- |
| Paddy Pyper, Geoff Dryland, Jerry Pook, Simon Coy | Henry Middleton & Andy Griffin |
A few more drinks, talk of the good old days and the everything is back to normal so another successful 89B reunion!
---
89B lead the way with reunions in 2014
It's amazing how "old boys" stick together - well the boys of 89B must be much older than the survivors of the other three 89 Entry squadrons because they really do stick together with a reunion every year!
This year the re-union was again held at the George in Wallingford. (We suspect someone in 89B has their pension fund invested there as they seem to get all 89B's business?) Geoff Dryland, 89's local reporter, reported that things did not quite get into the rousing start that we were used to - "It was a sign of old age that when people started to arrive in the afternoon, instead of a pint in the bar, it was a pot of tea in the lounge!!"
It is 51 years since 89B Squadron was formed at the RAF College - then there were 18 members. At the reunion this year there were 10 members - Simon Coy; Geoff Dryland; Andy Griffin; Nigel Griffiths; Mike Laundy; Henry Middleton; Paddy Pyper; Ron Shimmons; Dick Slogrove; Tony Steel; and one guest - Tony Ware from 89A.
The Squadron scrubbed up and formed up on time except for Nigel who arrived fairly late, apparently straight from his day job, hence his incorrect dress! A quick change after the "bubbly" saw him arrive in the correct attire for the dinner. The pretty barmaid was not in attendance so it was into the lounge for pre dinner drinks and long chats about old times and old timers! It was hard to believe that the party consisted of 69 and 70 year olds! Mind it was noticeable that the 70 year olds still had their hair and looked much younger whilst the "soixante neufers" had lost theirs and looked much older - obviously too much excitement at their age!!!
| | | |
| --- | --- | --- |
| Simon relaxing after an exhausting cup of tea. | Andy and Paddy get a swift one prior to the bubbly | Is it a man? Is it a bird? No, just reproducing a pose that was taken at Cranwell (you can see it on the pamphlet in Henry's hand). |
Simon having trouble with his belt so having to hold up his trousers

(Obviously forgot all that war studies tactical stuff about "belt & braces")

Tony Ware and Paddy can't believe Tony Steel's boast that he still has all his teeth
| | | |
| --- | --- | --- |
| Mike is not sure of the punch line to Henry's joke | No bubbly yet so Nigel still not dressed. Ron enjoys his Gin and Tonic.....sorry, water. Simon is happy his trousers have not fallen down! | Nigel obviously thought it was an 89C affair - so he turned up in his working clothes ready for a bit of painting and decorating in order to settle the bill! |
| | |
| --- | --- |
| 89B's guest for the night was Tony Ware (89A), here with Tony Steel | Who's he trying to kid, it looks like Ron has a G&T to me |
| | |
| --- | --- |
| Richard, I don't think you should have chatted up the barmaid - her husbands behind you! | I used to be able to whistle at the girls - then l got to 69! |
| | |
| --- | --- |
| Richard - eating, Tony S drinking and Mike practicing being soixante neuf! | "Mike I didn't know you were 69 like me?" |
| | |
| --- | --- |
| It was this big! | No - I saw it - It was only about this size! |
In summary it was an excellent reunion and despite 51 years since everyone first met, boys will be boys so the boys enjoyed another good night together remembering the good old times whilst we still can!
Thanks to Geoff Dryland for the report and the photographs.
__________________________________________________________________________
"THE BLADES"
SOUTH BRICK LINES 2004 ANNUAL DINNER
"The Blades", survivors of 89B meet annually to maintain those friendships built up over 3 years at Cranwell. This years reunion was held on Saturday 6th November at The George Hotel in Wallingford, Oxfordshire and judging by the hangovers at breakfast, it was a great success.

From this..

The "South Brick Lines" 1963

Ron Shimmons organised it, and in addition to Shimmo, those present included Henry Middleton, Richard Slogrove, Tony Steel, Simon Coy, Andy Griffin, Paddy Pyper and Nigel Griffiths plus Les Quigley of C Squadron.

To this!

The George - Wallingford 2004

Relaxing after the Port but before the Champagne was attacked by a sabre ....
Les, Richard, Nigel, Ron, Simon (upfront), Paddy (trying to get a look in), Henry, Tony, Andy
For more photographs click on "B" Squadron"
---
89C September 2018 - Special re-union

On 30th September 8 former C Squadron cadets and their wives assembled at the RAF Club in Piccadilly for a special re-union to welcome one of their own John Liddell and his wife Glenys, visiting from Melbourne, Australia. It was over 50 years since many of the squadron had met John, although some who had visited Melbourne in recent years had been royally entertained by the ex-pats.

Those attending where Dave Donnelly, Dave Harlow, John Liddell, JC Newland, Derek North, Les Quigley, Ian Robertson, Dick Shuster and their respective wives. Last minute apologies were received from Brian Synott, Duncan Swift, who had contracted some nasty disease in far off lands, and Chris Saunby who was committed to sailing (Illegals?) in Turkey.
The event was a lunch time one to ensure that as many as possible could make it, and as with all RAF do's, started in the bar. Following a lively meet "the troops" welcoming session in the Cowdrey Room, "the troops" all moved to the Hodges Room for lunch.

The lively lunch featured the men moving every course to ensure that the ladies were'nt bored by repeated tales of "daring do". This worked well until the later courses when the chaps started forgetting things - like their drinks and who they were! Nevertheless everyone managed to catch up with the activities, illnesses and hospital visits of everyone else. It is the sign of age when the main topic of conversation is how badly or how well various hospitals have performed!
The infamous "Running Horse Tavern" in the basement of the RAF Club

Naturally our final move was into the "Running Horse" bar were the banter continued for several hours. Indeed some of 89C were still there having an evening meal before returning to their respective "pits" in the evening.

Sadly a few members had to leave early because of medical problems and therefore missed the belated group photograph. Shireen Shuster is suffering with cancer whilst Dave Donnelly is recovering from a nasty stroke, so the Shusters and Donnellys took an early bath and headed North to Yorkshire.

We're sorry to report that Shireen's cancer has got worse, but pleased to report that Dave is much better and back on form.

Left to right - Dave Harlow (standing) Liz Harlow, Derek North, Ian Robertson, Pat Robertson, Val North, Jill Quigley, Glenys Liddell, Les Quigley, John Liddell
89C's thanks go to Derek North for organising the event
---
89C April 2018
"C" Squadron's 2017 reunion is a bit late!
89C's members are inveterate travelers so it is very difficult to pin down enough members for a re-union. As a result the 2017 89C reunion was held in 2018 and even then apologies were received from several members who were out of the country or otherwise committed. These were Dave Donnelly, John Liddell (in Australia), Duncan Swift & Ian Robertson. Nevertheless 7 members and their wives were able to make the RV at Barton Hall Kettering.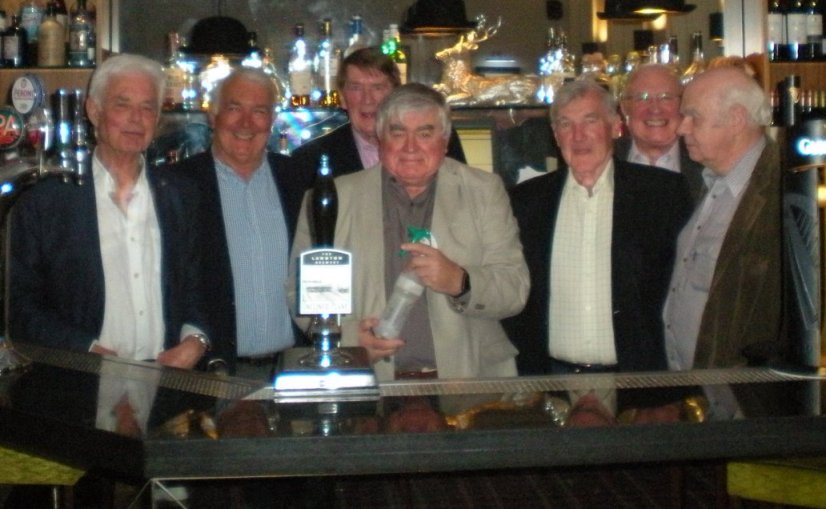 89C - condemed to be behind bars!
Left to right - Chris Saunby, Les Quigley, Dave Harlow, Dick Shuster, Brian Synnott, Derek North, JC Newland
Uniquely amongst 89 Entry squadron re-unions, C Squadron have taken to inviting their wives to their annual Squadron get together since many of the wives have known each other since the boys were at Cranwell or from their early days in the RAF.
The day started with early arrivals having a very pleasant lunch and afternoon drinks at the Saunby's. Here we found that Chris had developed into both a fine chef and a brewer! We were fed the finest homemade food accompanied by good wine and, for the discerning drinkers, Chris's home brew from his own micro brewery in one of his out buildings. The company, food and drink were so good that it was early evening before we new it so we all had to head to Barton Hall where we were staying and where the re-union dinner was being held.
Looking up the table -

Left side -

Dave Harlow, Liz Synnott, Chris Saunby, Liz Harlow,Brian Synnott, Kate Saunby, Dick Shuster

Right side -

Jill Quigley, JC Newland, Shireen Shuster, Derek North, (Hiding) Carro newland, Les Quigley, Val North.
Looking down the table -

Left side -

Val North, Les Quigley, Carro Newland, Derek North, Shireen Shuster, JC Newland, Jill Quigley

Right side -

Dick Shuster, Kate Saunby, Brian Synnott, Liz harlow, Chris Saunby, (Hiding) Liz Synnott, Dave Harlow
JC & Dave studying form?

Snotty recounting how hard it was at Cranwell

Kate & Dick have heard it all before!
| | |
| --- | --- |
| The heavy drinking end of the table? | Jill, Liz, Brian & Shireen retire to the bar |
Right - Derek enjoying another bottle of wine.

Left - Les; "Chris, will a tenner cover it?"

JC's trying to ignore anything to do with money!
And a good time was had by all with a promise to do it again before the year end in order to catch up with the other squadrons!
---
89C December 2015
It was hoped to convene an 89C reunion earlier but with 3 of our members still hard at work (well "working") and others travelling, the earliest 89C could get together was December. Chris Saunby was the 89C whipper in and by mutual consent we chose to meet at the Haycock Hotel, just off the A1 south of RAF Wittering - one of the few RAF airfields left! Like all good re-unions it started in the bar. However, unlike other reunions we chose to bring our wives since they all know each other - many from our Cranwell days. Sadly Dick and Shireen Shuster could not make it as Shireen was having treatment for cancer. We send Shireen our best wishes and our hopes for an early recovery. Keith Jackson sent his regrets that he and Sue would not be able to attend.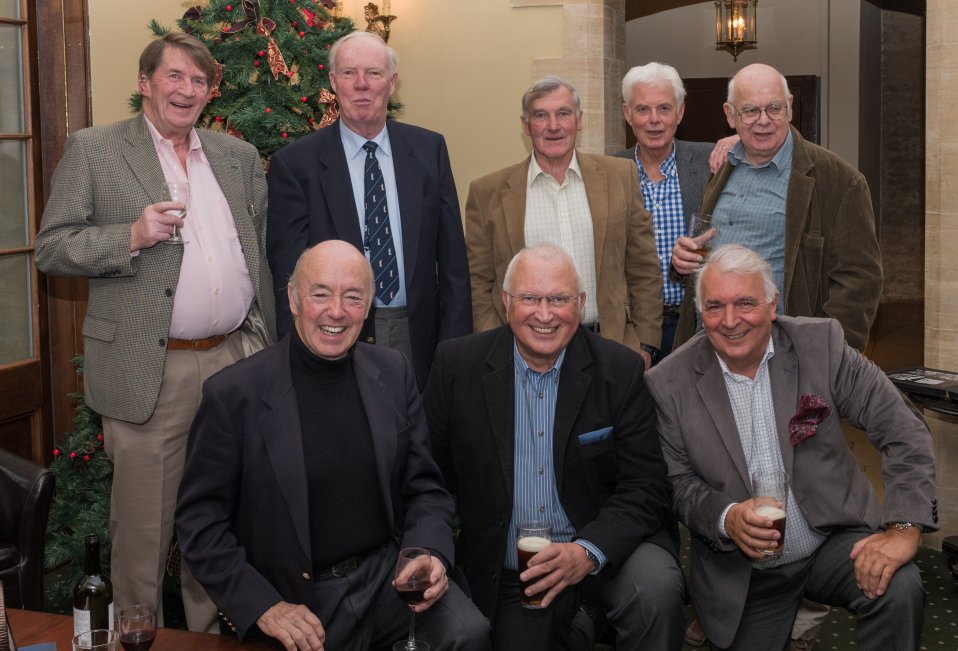 89C Survivors - Back row - Dave Harlow, Dave Donnelly, Brian Synott, Chris Saunby, JC Newland
Front row - Ian Robertson, Derek North, Les Quigley
Unlike our compatriots in B Squadron we were welcomed with afternoon tea and certainly did not need an afternoon kip. This despite us having less hair between us than the other squadrons. (Apart from Dave Harlow that is - and anyway we think that's a wig?)
Les Quigley checking Ian Robertson's ears

(Something about an ear fetish that he had heard about!)

Brain Synnott watching as Liz Synnott gets an ear "bashing" from Ian - Dave Harlow watches on enviously
| | |
| --- | --- |
| Dave Donnelly briefing his wife Anna and Val North on 89C Mess rules - i.e. anything goes! | Dave Donnelly and Derek North catch up over afternoon "tea" |
After the welcoming afternoon tea party - 89C dressed down for dinner and set about the food and drink...
Left to right - Dave Donnelly, Jill Quigley,Dave Harlow, Liz Synnot, JC Newland, Kate Saunby,

Derek North, Anna Donnelly, Carro Newland,les Quigley, Pat Robertson, Brian Synnott,

Liz Harlow, Ian Robertson, Val North

Left to right - Pat Robertson, Brian Synnott, Liz Harlow, Ian Robertson, Val North
Left to Right - Dave Harlow, JC Newland,Carro Newland, Brian Synnott,

Liz Harlow, Chris Saunby

Left to Right - Dave Donnelly, Kate Saunby, Pat Robertson,

Anna Donnelly, Carro Newland
Dave Harlow, Liz Synnott, JC Newland

Left - Derek North demonstrating a U P
After an excellent dinner, lots of chat and a few drinks the old boys of 89C and their ladies retired for a good nights sleep. Next morning we met for breakfast and made our farewells with a promise to meet again in 2017.
---
"89C" head overseas for their 2011 Reunion
The 2011 89C re-union took place in France over 3 days and followed the usual eat, drink and be merry routine that one expects from the best Squadron in 89 entry! Sadly only 7 of members could make it, Dave Harlow, JC Newland, Derek North, Les Quigley, Ian Robertson, Dick Shuster and Brian Synott, but we swelled our ranks by having our lady wives with us. The reunion was scheduled to coincide with "Battle of Britain" day - 15th September.
The event was based in South-West France in and around the village of Monleon Magnoac with a visit to Spain for lunch. The programme was pretty intense with everyone, except Ian and his wife Pat, flying into Toulouse. Ian & Pat had driven down on their way to their apartment in the South of Spain. The team made the best of local French and Spanish cuisine and wine indulging in a variety of eating and drinking experiences including a BBQ, formal dinner, informal dinner, local lunch, and Spanish lunch.

89C and their wives start assembling for drinks

Our first dinner together in the "Dupont", appropriately a 60's style hotel!

Left to Right - "JC" Newland, Dave Harlow, Jill Quigley, Brian Synott, Carro Newland

Dinner on the 2nd night was a BBQ at the Quigley's.

Here we were joined my several locals representing some 6 nationalities

More food & drink - Derek North, Dave Harlow, Les Quigley & Brian Synnott get stuck into a traditional French lunch after a hike through the Pyrenees

89C's main reunion dinner was held on "Battle of Britain" day in the Quigleys' dining room.

Left to Right - Dave, Dick (hidden), Derek, Les, Brian (hidden), JC, Ian

The final full day of the re-union - sunny Spain

Derek, Dave, Les, Dick & JC prepare to eat & drink yet again!

Dick & Derek - NOT MORE FOOD!
"Battle of Britain Day" 2011
89c Honours 7 young airmen "KIA with no known graves"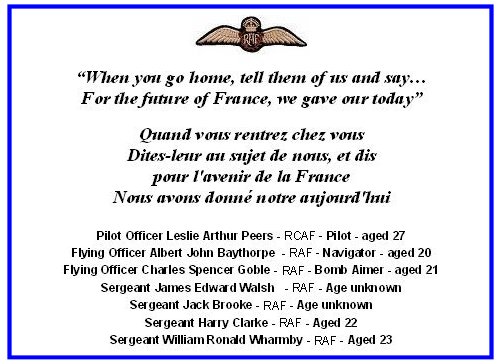 The inscription on the wreath placed by 89C
One of the highlights of the reunion was a trek in the mountains to honour the crew of a 624 Squadron Halifax that had crashed nearby in the Pyrenees in July 1944 whilst delivering supplies to the local French Resistance. The crew, although still listed as "missing in action with no known graves" are actually buried at 4,500 feet up in the mountains. The aircraft had left RAF Blida in Algeria on a secret mission to drop supplies to the French Resistance. The French Resistance found the crashed Halifax and buried the crew in the canisters that they were supposed to drop.
Years later with the help of a French Air Force helicopter to ferry the materials to the site the local French people built a special cemetery next to the remains of the Halifax. It was here that we hiked to lay wreaths to honour this young crew.
Dave Harlow leads the team with our supporters following

Above - Some of the team preparing to set off

With a number of local ex-military supporters we drove up through the Pyrenees to the nearest point accessible to vehicles. We then set off on foot with our supporters to hike through the woods to the crash site and grave yard

Right - The small grave yard is set in a clearing in the forest. The last few remains of the Halifax lie in a heap with point of impact marked with a cross above it. Around the cross are wreaths and flowers left by local French people who still pay tribute to our fellow airmen.

Left - At the cross marking the point of impact, Brian Synott lays a wreath on behalf of 89

A rememberance cross was placed on each grave and a wreath laid at the memorial
89's withdrawal - Age is beginning to tell!
| | | | |
| --- | --- | --- | --- |
| Derek bringing up the rear on the descent | Ian treads carefully | JC struggles through despite an injured knee | Brian comes out smiling |
---
"89C" Squadron 2005 Reunion
89C decided it was time to catch up with "B" and have a squadron re-union. This was held at the "Whipper Inn" (very appropriate I hear you all saying) in Oakham. The event was well attended with 9 of the original 14 surviving 1963 cadets making it. A further 4 sent apologies. There is only one that we can't find - Crag Carter - Crag if you're out there drop us a line!
Those making it were - Dave Donnelly, Dave Harlow, "JC" Newland, Derek North, Les Quigley, Chris Saunby, Dick Shuster, Duncan Swift, Brian Synott. - Apologies were received from Dave Foulger, John Liddell, Keith Jackson and Ian Robertson.
In addition as our special guest we invited Jerry Pook - We needed someone to buy the drinks! - Although Ian [who's wife Pat was recovering from a serious operation] kindly sent a bottle of vintage port! - we all managed to get at least one glass before Dick downed it!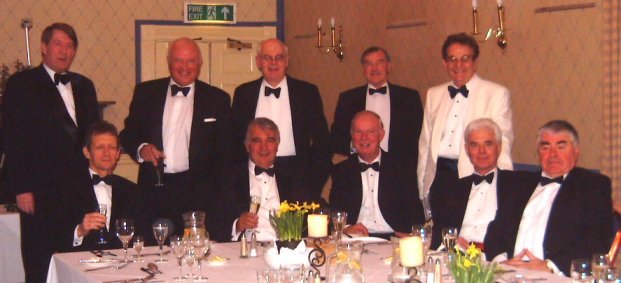 Back - left to right - Dave Harlow, Derek North, JC Newland, Brian Synott, Duncan Swift
Front - Jerry Pook ("A" guest), Les Quigley, Dave Donnelly, Chris Saunby, Dick Shuster
Not to be out done by the boys in "B", "C" held their first formal reunion since parting company in 1966. The reunion was held in Oakham in the "Whipper Inn" Hotel. The original plan was to hold it in the mess at Wittering as this was determined to be central for everyone. However, this proved impossible as, unbelievably, the Mess is closed at weekends! How times have changed!
The venue proved to be popular with 9 former members attending including 2 who hadn't seen any of us since we left Cranwell in '66. In addition we had invited Jerry Pook as our special guest. Needless to say much beer, wine, champagne, port and jollity was had by all.
Apologies were received from 4 other members, Ian Robertson, John Liddell, Keith Jackson and Dave Foulger. In addition Ian Robertson sent a bottle of Port, and John Liddell sent lots of photographs. (Which are now on this website.) The photographs were also put to good use in an audio visual presentation that helped revive memories.
A toast was drunk to our fallen comrades Pete Thompson and Paul Cooper and to those who couldn't make it.
Left - What a whopper Dave - The food was good and plentiful as was the wine!

Bottom Left - Dick and Brian warming up for the arm wrestling competition while the rest cheer them on

Below - We do believe you Dick - How long have you been a concert pianist?
| | |
| --- | --- |
| Dick - If you can play it - we can sing it! | Brian! Who had all that wine?... It was us Dave! |

Above - Everyone deep in conversation - Dick is explaining how he caught a little one again!

Left - Les produced his "Sword of Dishonour" to open the champagne French style!

Below Left - JC's having another to prove he's an ambidextrous drinker! - Is Dave refusing one - no he's asking for 4 just in case the Bar closes!

Below Right - Brian is explaining how he deals with unruly passengers.
POST SCRIPT - Whilst still sober, everyone present contributed to send a bouquet to Ian's wife Pat as she had just come out of hospital having had a serious operation. Ian and Pat wrote and thanked us all.
Thanks again Ian for the Port!
---
Some of 89C got together at RAF Linton-on-Ouse in 2002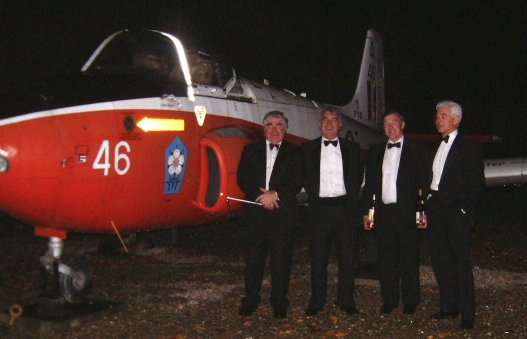 Dick Shuster, Les Quigley, Brian Synott & Chris Saunby deciding whether to go home and drink their ill gotten gains or pinch the JP - or both!!
(You can tell it's not a Cranwell JP - they have to have an arrow to tell the students which way it goes!)
---
"D" Squadron have their first major reunion - 2017
"D" Squadron have struggled to have squadron re-unions over the years due to the fact that their members were spread far and wide throughout the globe. However, once they got going they did so with a vengeance. They reported that this year 8 stalwart members turned up for the re-union at the White Horse in Deddington on 12/13th October.
(Only snag is - when checking out their report I find that there is no White Horse in Deddington - it is in Duns Tew some 2 miles away - [with target identification like this no wonder they were a few missing] Still 8 members found the RV and appear to have done a lot of eating, drinking and being merry so no wonder they didn't know where the where!)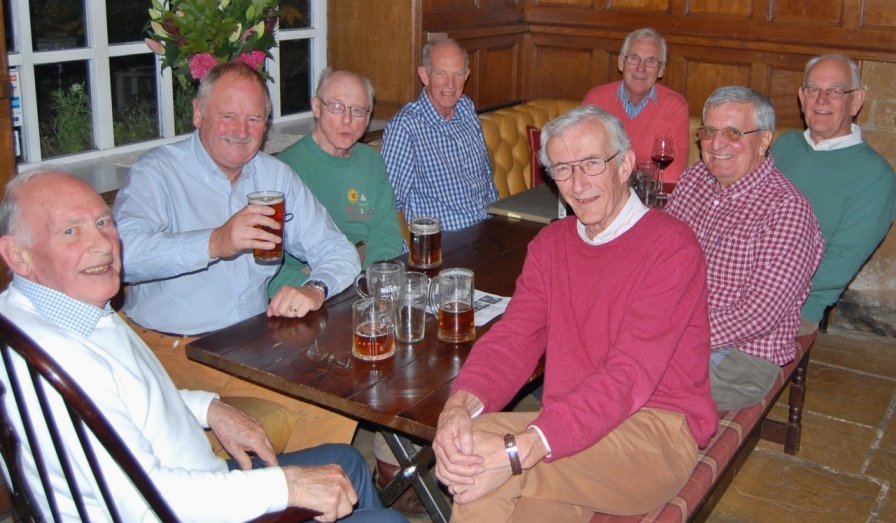 Naturally they started with "Pre-drinks" - before working out who was who and having more drinks!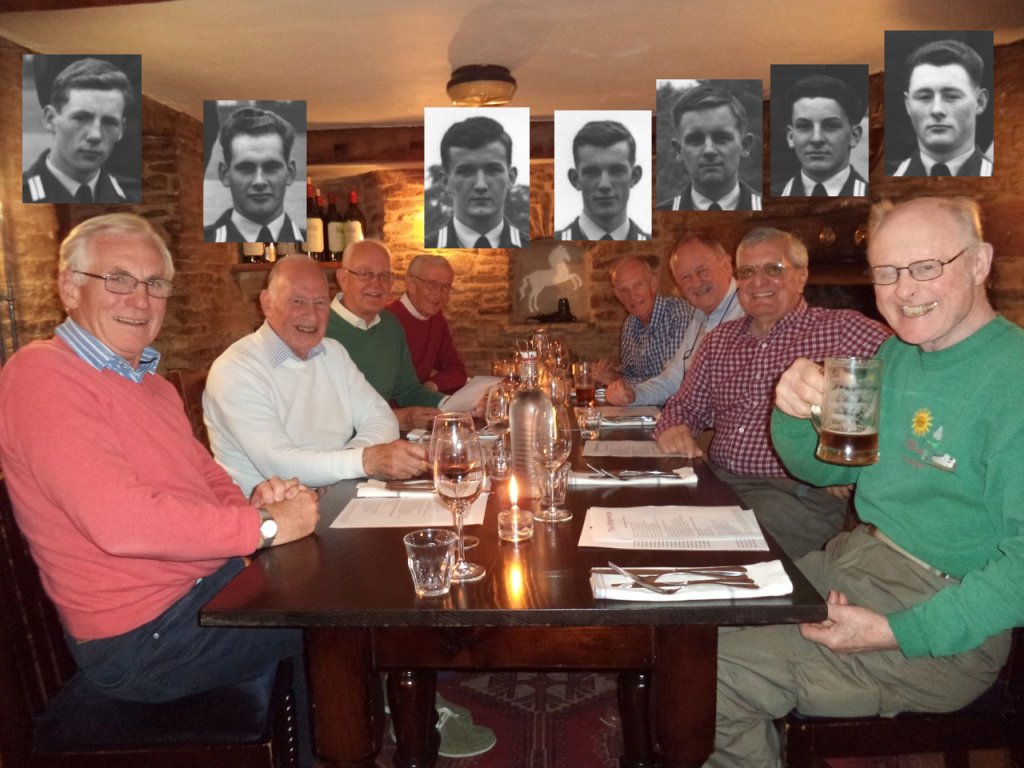 The old photo's helped...
Dave Hayward, Alan Macdonald, Steve Wrigley, Malcolm Coe, Paul Buckland, Malcolm Caygill, Dick Northcote, Jock Reid
(Don't know what happened to Steve's old photo?)
Dave & Alan - "Great party - where are we?"

Right - Paul & Malcolm - "I think we're here!"
---
50th Wedding Anniversaries
Over 50 years ago, pre-mobile phones and internet, after being locked away for 3 years in the barren wastes of Lincolnshire, far away from one's loved one, it was not surprising that many a young Officer wanted to secure his bride before an exciting posting to some equally barren part of the world. Many did and were married even before they qualified for a married quarter - so 50th wedding anniversaries abound!
Alan Macdonald's 50th Wedding Anniversary in the RAF Club - 2017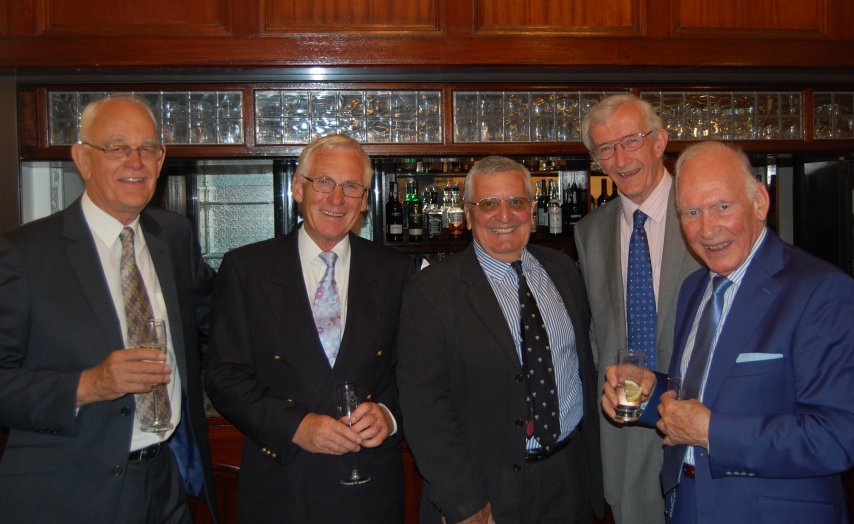 Steve Wrigley, Dave Hayward, Dick Northcote, Malcolm Coe celebrating 50 years of happy marriage with Alan Macdonald
Chris & Kate celebrate 50 years together in 2017
Chris Saunby celebrated 50 years of marriage to Kate at the same venue in Kettering where they were married. Many of the original wedding guests were present.

Included were a large number of 89ers - Jerry Pook (89A), Les Quigley (89C), Ian Robertson (89C), Dick Shuster (89C), Dick Slogrove (89B), Brian Synnott (89C) and their wives.

Left - Chris Saunby

Right - Kate Saunby
Much Champagne was consumed

Above - Jill Quigley & Pat Robertson smile while Les makes for another Champagne!

Left - Chris & Ian jaw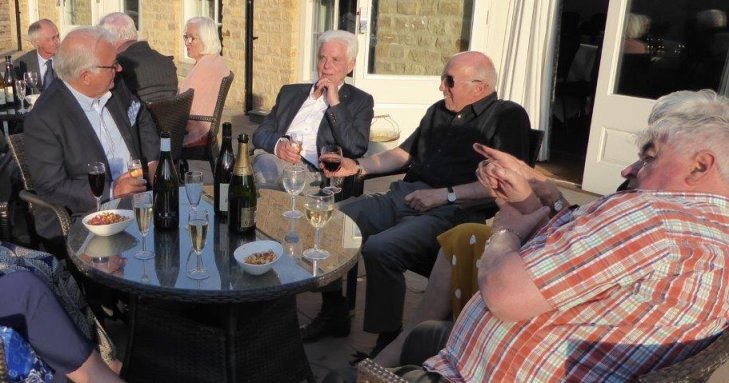 Les Quigley, Chris Saunby & Ian Robertson enjoying the afternoon sun whilst Dick Shuster holds back from grabbing another drink!