Past Reunions
"89C" Squadron 2005 Reunion
Not to be out done by the boys in "B", "C" held their first formal reunion since parting company in 1966. The reunion was held in Oakham in the "Whipper Inn" Hotel. The original plan was to hold it in the mess at Wittering as this was determined to be central for everyone. However, this proved impossible as, unbelievably, the Mess is closed at weekends! How times have changed!
The venue proved to be popular with 9 former members attending including 2 who hadn't seen any of us since we left Cranwell in '66. In addition we had invited Jerry Pook as our special guest. Needless to say much beer, wine, champagne, port and jollity was had by all.
Apologies were received from 4 other members, Ian Robertson, John Liddell, Keith Jackson and Dave Foulger. In addition Ian Robertson sent a bottle of Port, and John Liddell sent lots of photographs. (Which are now on this website.) The photographs were also put to good use in an audio visual presentation that helped revive memories.
A toast was drunk to our fallen comrades Pete Thompson and Paul Cooper and to those who couldn't make it.
Left - What a whopper Dave - The food was good and plentiful as was the wine!

Bottom Left - Dick and Brian warming up for the arm wrestling competition while the rest cheer them on

Below - We do believe you Dick - How long have you been a concert pianist?
| | |
| --- | --- |
| Dick - If you can play it - we can sing it! | Brian! Who had all that wine?... It was us Dave! |

Above - Everyone deep in conversation - Dick is ecplaining how he caught a little one again!

Left - Les produced his "Sword of Dishonour" to open the champagne French style!

Below Left - JC's having another to prove he's an ambidextrous drinker! - Is Dave refusing one - no he's asking for 4 just in case the Bar closes!

Below Right - Brian is explaining how he deals with unruly passengers.
POST SCRIPT - Whilst still sober, everyone present contributed to send a bouquet to Ian's wife Pat as she had just come out of hospital having had a serious operation. Ian and Pat wrote and thanked us all.
Thanks again Ian for the Port!
---
"THE BLADES"
SOUTH BRICK LINES 2004 ANNUAL DINNER
"The Blades", survivors of 89B meet annually to maintain those friendships built up over 3 years at Cranwell. This years reunion was held on Saturday 6th November at The George Hotel in Wallingford, Oxfordshire and judging by the hangovers at breakfast, it was a great success.

From this..

The "South Brick Lines" 1963

Ron Shimmons organised it, and in addition to Shimmo, those present included Henry Middleton, Richard Slogrove, Tony Steel, Simon Coy, Andy Griffin, Paddy Pyper and Nigel Griffiths plus Les Quigley of C Squadron.

To this!

The George - Wallingford 2004

Relaxing after the Port but before the Champagne was attacked by a sabre ....
Les, Richard, Nigel, Ron, Simon (upfront), Paddy (trying to get a look in), Henry, Tony, Andy
For more photographs click on "B" Squadron
---
Thanks to Peter, who instigated and organised the reunion, the 40th anniversary of "89" entering Cranwell was incredibly successful and brought many old friends together. The immediate result was not only to relight old friendships, but to ensure that these friendships continue into our old age.
As a result of the reunion we created a web site to ensure that the old buggers, brought up on 50's communication techniques, stay in communication using the new millennium techniques. I guess this proves that we are not really old buggers - yet! We just look it!!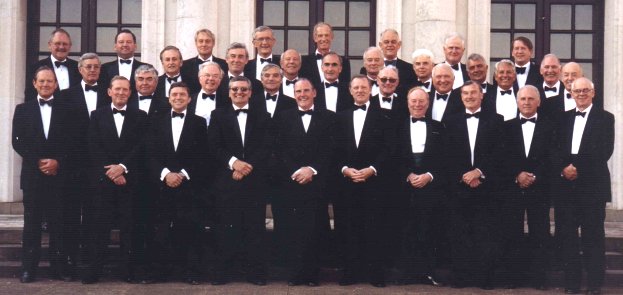 89 Entry RAF College Cranwell 2003
[I would have liked to have provided a caption that named everyone in the photograph, but there are two faces I cannot put a name too - I'm offering a pint to anyone who can name everyone!]
If you wish to copy the photo or take a closer look (for the pint!) - click on the photograph
PS - How did that young choir boy get in the picture? (Front row - 3rd from the left)
There's not a lot to report other than we had a thoroughly enjoyable time - drank a lot - reminisced a lot - ate a lot - laughed a lot - and even admired the cadets of today (especially those lovely girly ones - imagine one of them in the next room? - No! - It's probably a court martial offence, and any way you're too old)!
Oh! .... And "C" Squadron won again (didn't we always?) - We had the highest turnout - 10! - And were the best looking!
I'm not sure how to pitch this site? So I'll let it roll and gauge the reaction!
I'm starting it as a photo gallery since writing never was my strong point. You guys can supply the stories and the pictures. If you have any old pics of your Cranwell days, or your more exciting intermediate days - scan them (as big as you can) and email them to me with captions. I'm sure we'll all be interested (Especially if she's pretty with outstanding features - don't send us any grotties! - take a look in the "Archives" section - you'll see Pooky and me with a couple of LTC lovelies - anyone recognise them - I don't - and she's on my knee!)
This site contains some pics taken at the re-union by me, Ian Robertson & Dave Harlow, if you have any please send them in for publication .....
Top Left - The College never seemed that big when we were there!

Top Right - Familiar scenes, except where are the "trusty muskets" and "shiny bayonets" that we had? How can they defend the realm without them?

Left - "Permission to march off sir - 'cos we've forgotten to bring our guns?"
Remembering are fallen comrades
Sadly 89's first loss, Martin Barents, lays in Cranwell village cemetery where we buried him with full military honours back in 1964, so we decided to honour him and the rest of our fallen comrades at his grave.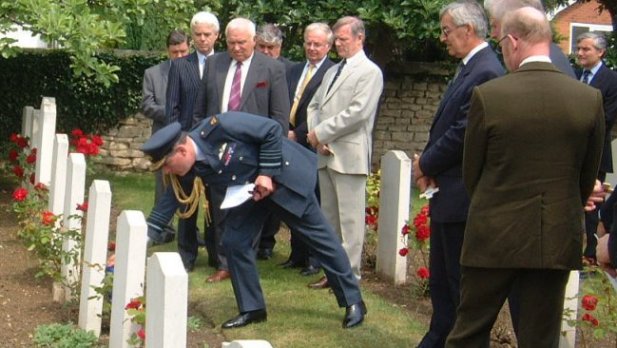 Peter laying the wreath at Martin's grave commemorating our 12 friends who didn't make it this far. They and their families would be proud to know that the CAS would honour them in this way.
The wreath was dedicated as follows....

In memory of the former cadets of 89 Entry (1963 to 1966)
Royal Air force College Cranwell
who had passed away before the 40th Reunion 14th June 2003
Martin Barents (89D) – killed in a car accident 25th May 1964 following the routine 'Sunday night dash back to Cranwell to beat the 23.59 Hrs dead line'
Pete Thompson (89C) – killed in an aircraft accident at Tengah on 12th September 1968 flying a Lightning with 74 Squadron.
Roger Thomas (89A) - killed in an aircraft accident on 25th March 1969 flying a Canberra with 13 Squadron
Frank Whitehouse (89B) - killed in an aircraft accident at Tengah on 27th July 1970 flying a Lightning with 74 Squadron.
Paul Cooper (89C) - killed in an aircraft accident at Wattisham on 16th February 1972 flying a Lightning with 29 Squadron.
Russ Pengelly (89A) – killed test flying Tornado prototype PO8 over the Irish Sea 12th June 1979
Keith Cartlidge (89B) – killed in an aircraft accident Oct 1978 flying a Puma in the Middle East
Mike Thompson (89B) – killed in an aircraft accident 1983 – flying a Lightning out of RAF Binbrook
Paddy Waugh (89D) – killed in a car accident 1967 on first tour at RAF Benson
John Mazurk (89A) – killed in a car accident in Middle East
Ian Johnson (89D) – died 24th June 1995
Malcolm Cooper (89C – former 88C) – died of cancer 1998
"Good friends - gone but not forgotten"
The wreath laying was followed by individual crosses, each bearing the individuals name and details, being laid by one of the their comrades, whilst Peter read out the roll of honour.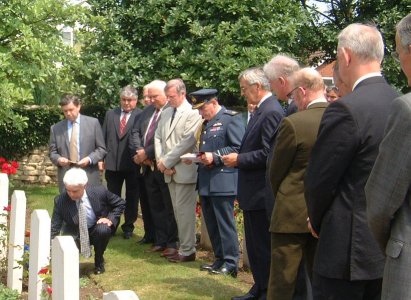 Chris Saunby laying Paul Cooper's cross whilst Chel Hibbert waits to lay one for Roge Thomas
.
On completion of the laying of the 12 crosses, a trumpeter from the Central Band of the RAF played the Last Post. This was immediately followed by two minutes silence to remember them,. The ceremony was competed in traditional military style with the awakening call of Reveille.

The quality of the trumpeting was superb and must have been the best ever heard in this quiet village churchyard.

Below

Sir Peter Squire GCB DFC AFC ADC DSc RAF, Chief of the Air Staff, and the survivors of 89 Entry, salute their 12 departed members.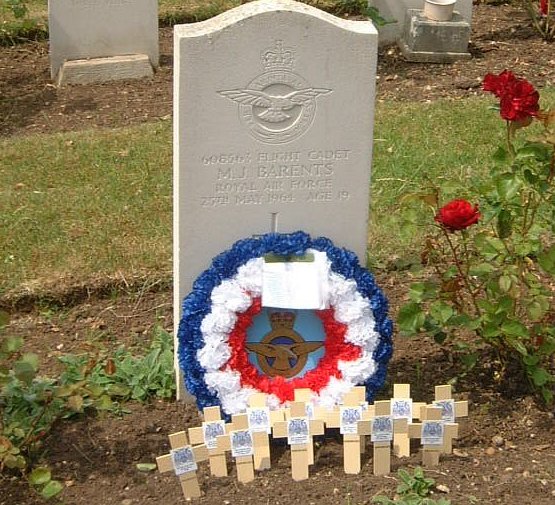 After the commemoration 89 returned to the College for lunch before departing...
However in true 89 style it wasn't to be as simple as that - someone decided to set fire to the College whilst we were lunching.....
Top Left - A brave cadet recovers the Queens Colour whilst 89 "dash" to safety.

Top Right - Everyone seems highly amused - at least those who rescued their beers are!

The rest are trying to creep back into the bar!

Left - Saved by the fire section - Again!

Whilst all this was going on Flt Lt Dick Shuster AFC, RAFVR with his Personal Pilot, Flight Cadet Les Quigley (Rtd)
Took off for home - Dick took this last photo of Cranwell as we headed North

40 minutes later we landed at Linton-on-Ouse to be welcomed by the Fire section again!
Had they heard about us from their colleague's at Cranwell?
A superb end to a superb weekend
Thanks again Peter for arranging it
We must do it again!
Editor's Note
I am sure that we would all wish to record our thanks to Peter and his staff as well as to all the staff and cadets at Cranwell who looked after us so well.
Special thanks go to Bob O'Donnell and the lovely Emma for their part in the organisation, particularly in putting together the commemoration ceremony to our dead colleagues.
Many thanks to you all.
Right - Emma who never stopped - even
when the College was burning down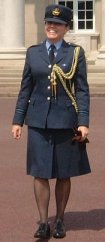 The 1988 Reunion

Malc Caygill, Ian Johnson, Colin Lovegrove, Barry Chalkley, Paul Buckland, Henry Middleton,
Pete Crispin, Ron Shimmons, Alan Ferguson, Nigel Griffiths, Pete Squire, Ron Kennet, Black Robertson,
Vince Yates, Dick Northcote, Roger Cresswell, Allan Macdonald, Chris Gardiner, Jerry Pook,
Dave Archbold, Chris Saunby, Dave Foulger, Les Quigley, Ian Robertson
---
Some of 89C got together at RAF Linton-on-Ouse in 2002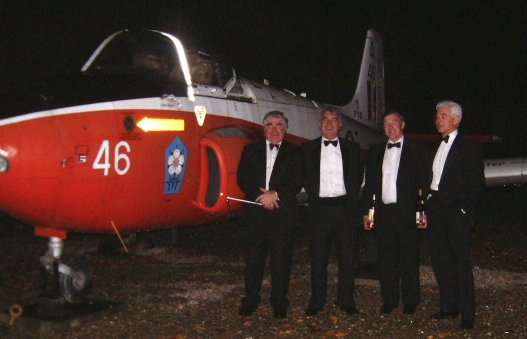 Dick Shuster, Les Quigley, Brian Synott & Chris Saunby deciding whether to go home and drink their ill gotten gains or pinch the JP - or both!!
(You can tell it's not a Cranwell JP - they have to have an arrow to tell the students which way it goes!)