For the Korean War site by Simon Coy

Email your photos & stories
to 89@amco999.com
Cranwell
LINKS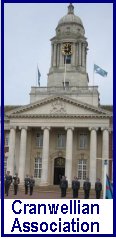 RAF College Cranwell
2017
A year of informal "get togethers" and not a lot of action!
With all surviving 89ers now being 72 and 73 years young it is not surprising that most have slowed down a little having lived incredibly full and fast lives. Despite their ages (collectively with over 3,000 years experience of life between them) it is unsurprising that most are still actively contributing much of their time to public, charitable and business organisations as well as to their ever growing families. In addition they all still find time to enjoy life's social activities both at home and abroad. At any one time you can guarantee to find an 89er in a bar in some corner of the world. We even manage to get together at regular intervals to swop old and new stories.
Wishing you a Merry Christmas -

You can always find someone from 89 helping those in need...

Here is Santa (It's actually Dick Shuster in his work clothes) visiting the house of a fellow old aged pensioner from 89C and handing over a much needed gift - No doubt a strong "spirit" to help the old chap through the hard days of winter and into 2018 with a...

Happy New Year!
89 Entry Squadron Reunions
The latest get together was A Squadron's, we now know where (Originally a secret location - just in case they were gate crashed by another thirsty squadron) but we did know when - 5th November. (The poppies and the fact that they were dodging the "fireworks" was the give away!) never the less as usual there was a good turnout. There was even an infiltrator, Henry Middleton from "B" Squadron
The 2017 "A" Squadron turn out
Report from Alan Ferguson -
Below are some photos for the "89A Chapter" . It was held on Sunday 5th November 17 at the Wroxton House Hotel, Banbury. Those attending were
Black Robertson; Alan Ferguson: Henry Middleton: Barry Chalkley: Peter Squire: Peter Crispin: Ian Clark: Tony Ware: Chel Hibbert .. a fine bunch of warriors ....
This was the third 89A Reunion Dinner but the first one that has included a guest - in this case Henry Middleton from 89B.
When paying the bills before departure an ex-CAS noticed that

all the drinks had been billed to Alan Ferguson

but being an honest soul, as you would expect from a very senior officer this was corrected before the diners scattered to the four winds never to be seen again .. almost the 89A version of "doing a runner" ...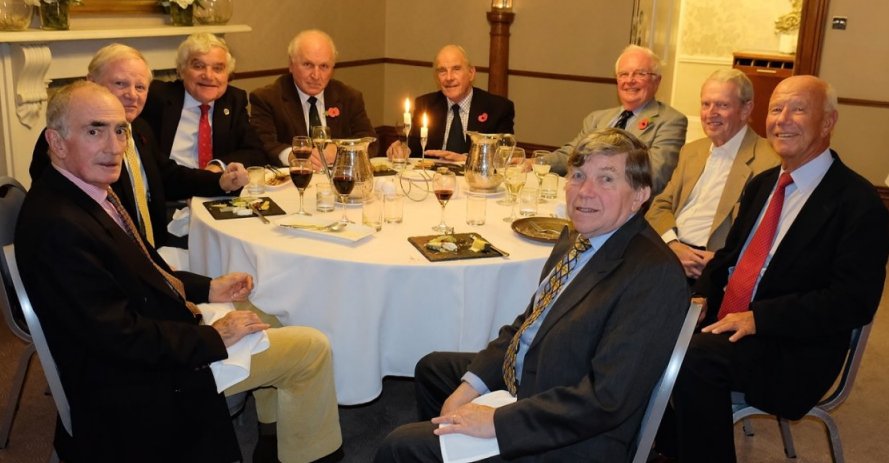 Clockwise (around the table) -Black Robertson, Alan Ferguson, Guest Henry Middleton (B Sqn), Barry Chalkley, Pete Squire, Pete Crispin, Ian Clark, Tony Ware, Chel Hibbert
Left - Black poised to grab Henry's drink

Right - Barry shouts out a warning whilst Chel admires the move

Below - Boris seems to have gate crashed, so the two Pete's give him a hard time!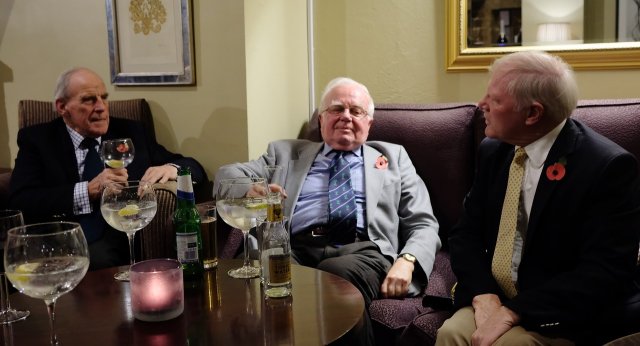 89B's Annual Bash
Report from Geoff Dryland - "The reunion took place on 28 October with a creditable 10 members of "89B" Sqiadron attending -. Theose attending were Simon Coy, Geoff Dryland, Andy Griffin, Nigel Griffiths, Mike Laundy, Henry Middleton, Paddy Pyper, Ron Shimmons, Tony Steel, & Richard Slogrove. This years guest of honour was someone from the "other end", Steve Wrigley - "D" Squadron!
We also had an extra guest this year. Simon Coy's brother in law (Roger Green) was enroute back to Oz, so we agreed to give him supper in return for countless rounds of beer!! It just happens that Roger's father was a previous Station Commander and Andy Griffin knew him so there was a tenuous link. Is it me or does he look a bit like Gerry Adams?"
| | |
| --- | --- |
| Guest, Roger Green, Nigel Griffiths & Andy Griffin | Simon Coy managing to command the scene with honoured guest Steve Wrigley (89D) in deep conversation with Richard Slogrove |
| | |
| --- | --- |
| Left to right - Richard Slogrove, Guest Roger, Andy Griffin, Paddy Pyper (describing the size of...? to) Tony Steel | Left to right - Paddy Pyper, Tony Steel, Ron Shimmons, Mike Laundy and Geoff Dryland (with his eyes on the waitress) |
| | | |
| --- | --- | --- |
| Henry Middleton & Simon Coy | Tony Steel & Ron Shimmons | Steve Wrigley guest fro 89D |
It wasn't long before the troops returned to the bar for the last rounds a more relaxing

Left to right - Nigel Griffiths, Simon Coy, Henry Middleton, Paddy Pyper & Geoff Dryland

Nigel & Geoff

Ron & Mike
---
After many years apart - "D" Squadron have their first major reunion
"D" Squadron have struggled to have squadron re-unions over the years due to the fact that their members were spread far and wide throughout the globe. However, once they got going they did so with a vengeance. They reported that this year 8 stalwart members turned up for the re-union at the White Horse in Deddington on 12/13th October.
(Only snag is - when checking out their report I find that there is no White Horse in Deddington - it is in Duns Tew some 2 miles away - [with target identification like this no wonder they were a few missing] Still 8 members found the RV and appear to have done a lot of eating, drinking and being merry so no wonder they didn't know where the where!)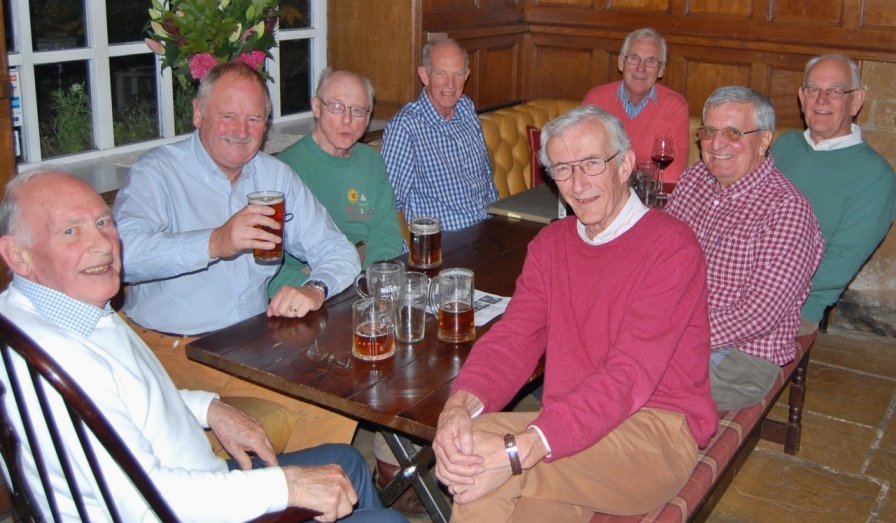 Naturally they started with "Pre-drinks" - before working out who was who and having more drinks!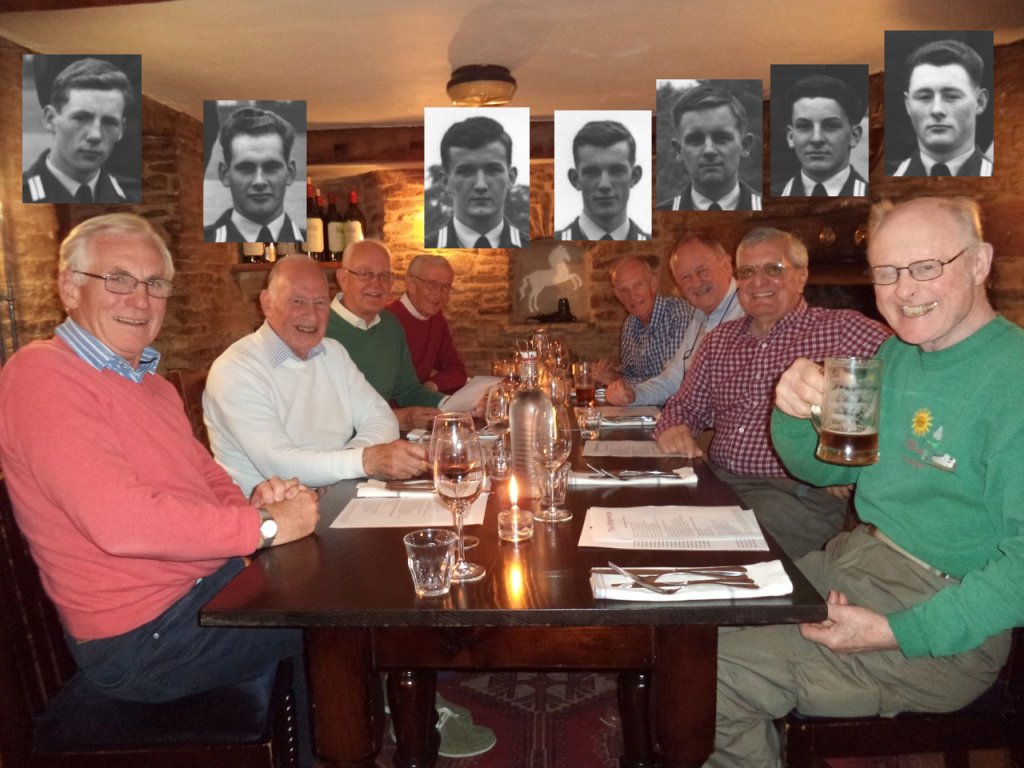 The old photo's helped...
Dave Hayward, Alan Macdonald, Steve Wrigley, Malcolm Coe, Paul Buckland, Malcolm Caygill, Dick Northcote, Jock Reid
(Don't know what happened to Steve's old photo?)
Dave & Alan - "Great party - where are we?"

Right - Paul & Malcolm - "I think we're here!"
50th Anniversaries
This year, in addition to informal re-unions, the range of "get togethers" included special anniversaries!
50 years ago, pre-mobile phones and internet, after being locked away for 3 years in the barren wastes of Lincolnshire, far away from one's loved one, it was not surprising that many a young Officer wanted to secure his bride before an exciting posting to some equally barren part of the world. Many did and were married even before they qualified for a married quarter - so 50th wedding anniversaries abounded!
Alan MacDonald's 50th Wedding Anniversary in the RAF Club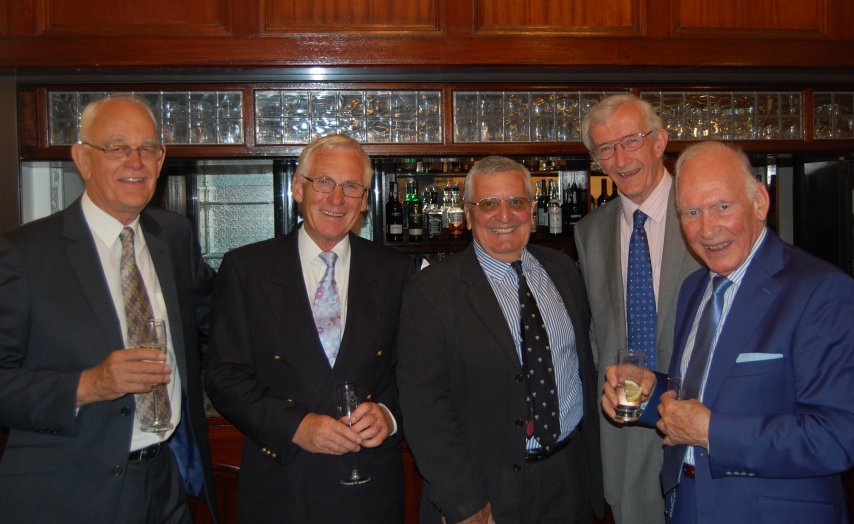 Steve Wrigley, Dave Hayward, Dick Northcote, Malcolm Coe celebrating 50 years of happy marriage with Alan MacDonald
Chris & Kate celebrate 50 years together
Chris Saunby celebrated 50 years of marriage to Kate at the same venue in Kettering where they were married. Many of the original wedding guests were present.

Included were a large number of 89ers - Jerry Pook (89A), Les Quigley (89C), Ian Robertson (89C), Dick Shuster (89C), Dick Slogrove (89B), Brian Synnott (89C) and their wives.

Left - Chris Saunby

Right - Kate Saunby
Much Champagne was consumed

Above - Jill Quigley & Pat Robertson smile while Les makes for another Champagne!

Left - Chris & Ian jaw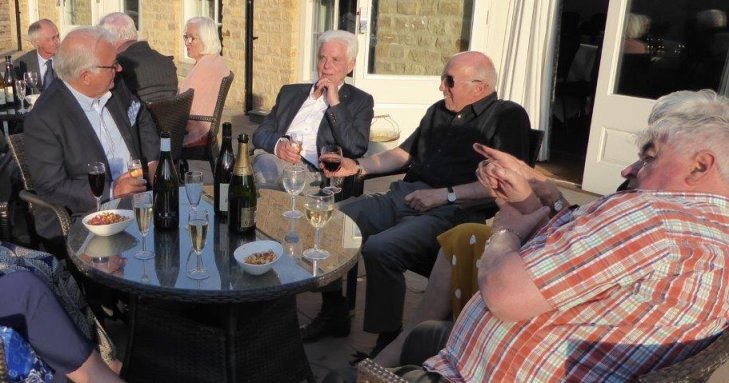 Les Quigley, Chris Saunby & Ian Robertson enjoying the afternoon sun whilst Dick Shuster holds back from grabbing another drink!
89 Entry may well be yesterdays men, and a bunch of old farts,
but we still maintain that comradeship 54 years after we joined the team !
-----------------------------------------------------------------
89's UNIQUE HISTORY?
The longest serving Entry ever to serve as cadets at Cranwell !
Derek North recently reminded us that, not only were we probably the best cadet Entry to pass through the RAF College Cranwell, (other Entries may argue, but just look at our charge sheets!), but also we were the longest serving Entry ever to serve as cadets at Cranwell. We "signed to serve Her Majesty" on 9th September 1963 in the exalted rank of AC2 (Aircraftsman 2nd class (AC2) - or "AC plonk" as it was known colloquially. Its members were collectively known as "erks").
In 1964 the rank of AC2 was abandoned so 89 Entry cadets were all promoted to "Aircraftsman" , a rank which we retained until graduation on 18th August 1966. Again we were probably the longest serving RAF personnel to hold the rank of Aircraftsman since it was a rank only used for airmen in training and no one in the RAF trained for 3 years, except Cranwell Cadets!
Quoting Derek ......

"I notice that 89 Entry is correctly down as celebrating the 50th anniversary of graduation this year, but the wrong date is quoted. We graduated on 18 August 1966 and not the 15 July mentioned. The latter was the originally planned date, but this was postponed to August to fit in with the new 30 month courses, making us possibly the longest ever course Ė and causing many grumbles at the time. At least our seniority was subsequently backdated to 15 Jul 66 but I canít remember if we also received the back pay?"

Left - Group Captain Derek North RAF Rtd.
The last Entry at the RAF College to have to wear hats in civilian clothes!
Another unique feature of 89 Entry is the fact that we were the last entry to have to wear hats when in civilian clothes. This was a regulation set back in the founding days of the College. I guess it was to distinguish the cadets from others and to ensure that we were proper gentlemen, raising our hats in salute to officers and ladies. In the early 60's "Bowlers" (as worn by the actor playing Douglas Bader in the film "Reach for the Sky") and "Trilbies" went out of fashion. "Pork pie" hats were in. We must have looked like a bunch of "barrow boys from the East End" when in "civvies", especially on Wednesdays and Saturdays when visiting other sports teams, so I guess Air Commodore Lyne persuaded the Air Ministry, as it was then, to cancel the regulation! (The Air Ministry disappeared as an independent Ministry in 1964 and became part of the new Ministry of Defence.)
---
50 years since leaving "The RAF College"
On the 9th September 1963, 69 young men, all just 17 to 18 years old, joined the Royal Air Force. These young men had decided to dedicate themselves to Queen & Country by joining the Royal Air Force via the most difficult route possible - via the Royal Air Force College Cranwell. These young men had become "Flight Cadets" in 89 Entry!I
It was a time when young men didn't think about what they would earn or how you would earn it, they just wanted to serve in the RAF! - This was just as well as the starting pay was just 14 bob a day (70p in today's money). This would just about buy you 6 pints of beer. (Compare this with today's starting pay which buys around 20 pints!).
The South Brick Lines - built 1915

Known to the "inmates" as "The Pits"

From day one, Flight Cadets (whose actual rank was "AC2" - the lowest in the RAF) certainly earned their 14 bob a day, but for over 3 months they didn't get the opportunity to buy that beer! They were awakened at 06.30 Hrs, they started work at 08.00 Hrs, and were lucky to finish work by lights out at 22.30 Hrs. (Mind they were allowed "free time" Sunday afternoons, after Church Parade, to "bull up" their First World War huts.)

For the first 4 months of a Cadet's life, the RAF College became an open prison. First term Cadets lived in "the pits" (5 to a hut), were not allowed to drink alcohol, were not allowed out of the base and had to wear a hat at all times in or out of uniform! In 1963 there were no guards or security fences around the base, but if you tried to escape for a pint, even in "civvies", you would immediately be identified as an escapee since you would be the only 18 year old wearing a hat! Escaping, therefore, was not an option - Getting caught breaking any rule, no matter how trivial, meant "Strikers" - "Strikers" involved being restricted to base (you were already!), and in addition to your normal 16 hours or work, you had to fit in 2 arduous drill parades and a full kit inspection each day of your sentence - all at the most unsocial times that the powers that be could think up - 07.00 Hrs, 18.00 Hrs and then 22.00 Hrs, thus making the open prison into a closed prison!
It wasn't all bad, in fact much of it was great fun - some of us actually got paid to fly nice little jets. Eventually, after 3 years in July 1966, the 89 Entry survivors escaped and using the vast amount of knowledge and experience gained at the Royal Air Force College, they prospered both in the RAF and in the wider world. Some of those who joined in September 1963, didn't survive the 3 years but 89s numbers were swelled in our final year with dozens of new faces when the RAF Technical College at Henlow closed in December 1965 and their cadets were absorbed into Cranwell.

Sadly many of the 1966 graduates are no longer with us on this earth and some have disappeared into the wider world, however despite this, 89 fielded 31 survivors at the 2016 reunion. An additional 5 members apologised for not being able to make it.
---
2017 a year of squadron get togethers
B Squadron have held annual re-unions for many years the first recorded on this website being 11 years ago in 2004. C Squadron, not to be outdone, commenced in 2005. C Squadron started their reunions with the standard all male affair but soon branched out, on a less regular basis than B Squadron, but on a more exotic basis travelling overseas with wives also being invited. In 2014 A Squadron, who needed to play catch up, also commenced holding annual re-unions. So we now had 3 of our 4 squadrons holding reunions.
In 2017 the old boys of D Squadron eventually caught up with the other 3 squadrons? (In fairness they occupied the last wing to be built at the RAF College Cranwell, several years after the college was built and some time after world war 2, so they had an excuse for being last!)

Left - The RAF College in 1933 (less the D Squadron wing)
---
---
50 Years on - How the RAF has changed
Comparing like with like is always difficult with historic data, as life, technology and political circumstance change, however, history is interesting and so are the statistics associated with history.
89 Entry is history, so let's examine some of the basics...
1945 - Most of 89 Entry were born in late 1944 and in 1945 when the Royal Air Force was at its peak with over a million men and women in uniform. At that time it had some 9,200 operational aircraft with over 1,000 UK bases and around 200 overseas bases. (Click here for details of operational aircraft. You can find a list of most, but not all, the wartime bases in Wikipedia by clicking here.)
1963 - When 89 Entry entered the RAF College, the RAF had about 140,000 personnel, around 2,000 operational aircraft, with 200 UK bases and 30 overseas bases (Click here for details of flying bases and squadrons) - (NOTE - All the aircraft were British designed & built)
2013 - 50 years on, from when 89 entry arrived at Cranwell, the Royal Air Force now has 37,000 personnel in uniform,. 760 aircraft*, 45 (35 manned) UK bases and 5 overseas bases. - (Note - 63% of the aircraft are British built, but only 13% are of sole British design - How times have changed!)
Click here to return to the top