For the Korean War site by Simon Coy

Email your photos & stories
to 89@amco999.com
Cranwell
LINKS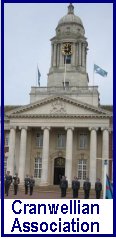 RAF College Cranwell
Black joins the 89 author's club
The latest 89er to become a published author is Black Robertson, another 89A former fighter pilot. Black follows the success of his fellow 89A comrade, Jerry Pook, also a fighter pilot and author. In addition to the interesting theme of the book, for 89ers there is a slice of Black's Cranwell experience included which makes the book even more interesting for 89 members, so follow the link below and get your orders in now.

The following is what the preview has to say...

This is no ordinary memoir. Moving back and forth through time, two stories with fascinating parallels gradually unfold. One is of a Second World War Spitfire ace whose flying career came to a premature end when he was shot down and lost an eye, the other is about his progeny, a second generation fighter pilot who rose to the rank of air marshal. There were times when the lives of both father and son, Robbie' and Black' Robertson, hung in the balance - occasions when survival was simply a matter of luck. The narrative is unique in its use of two separate and distinct voices. The author's own reminiscences are interwoven with those of his father recorded more than thirty years ago. Intensely personal and revealing, controversial too at times, this memoir is above all about people. There is a final irony though. The son spent a lifetime training for the ultimate examination - one that despite strictly limited preparation his father passed with flying colours.

To Black Robertson's eternal regret he was never able to put his own training to the test. His father was awarded the DFC and retired as a flight lieutenant after five years or so. He himself served for nearly thirty-six years, earned a Queen's Commendation, an OBE and CBE and served as an ADC to HM The Queen. But after reaching almost the top of the RAF tree, in one important sense he retired unfulfilled; his mettle was never tested under fire. Anyone interested to know more about flying, about the RAF, about leadership, about character even, need look no further than this beautifully crafted, immensely readable account.
The back cover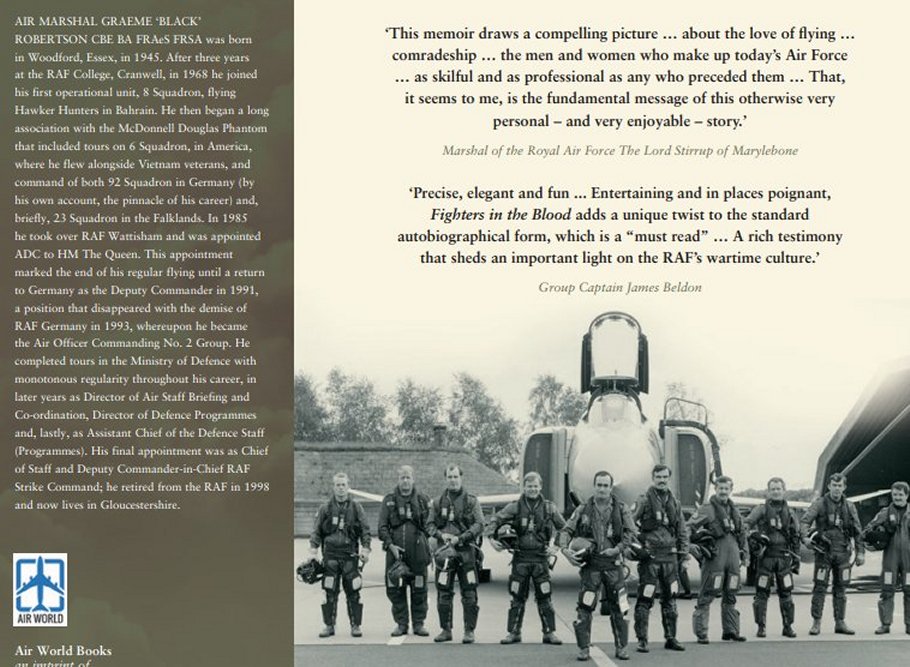 The others books from 89A

Whilst ordering Black's book, if you haven't already got them for yourself and your off springs, go for a big discount and order Jerry's at the same time!

We haven't heard of any other books written by former 89 Entry members in other squadrons, but if there are please let us know.
---
Coronavirus - May 2020
89's Next "Zoom In" Happy Hour
Following the success of our first two Zoom In Happy Hours you are reminded to bring your own drinks and turn up, from somewhere in the world, at our next Zoom meet at -
17:00 Hrs BST on Thursday 21st May
If you are not sure of the joining instructions - call ATC, Chris Saunby (by email), before you get downwind - let him know you are joining and he will give you landing instructions,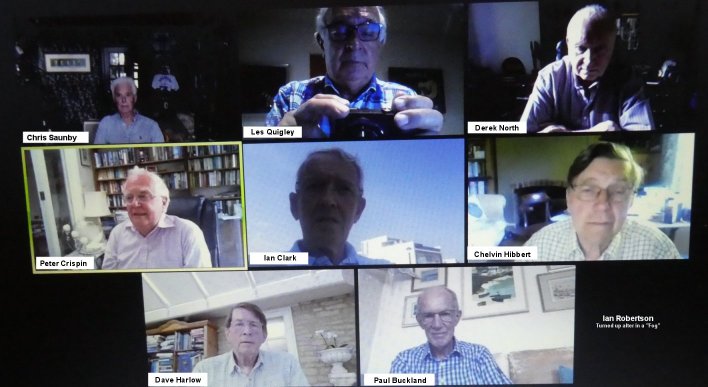 A screen shot of the last Happy Hour with 89ers locked down throughout the UK as well as in Australia & Chile
---
89's First "Zoom In"

Happy Hour

Thanks to Chris Saunby's hard work in organising all the technical aspects of our first "Zoom In" and then briefing all those who wanted to join 89's "Zoom in" Happy Hour, we got off to a pretty smart formation landing at 17:00 Hrs BST on Thursday 23rd April.
A total of fifteen 89ers called finals. But only 13 managed a safe landing -

Paul Buckland (D); Ian Clark (A); John Coates (D); Crispin (A); Chel Hibbert (A); Dave Harlow (C); Colin Lovegrove (D); Derek North (C) ; Dick Northcote (D); Les Quigley (C); Chris Saunby (C); Black Robertson (A); Grant Taylor (D)

.

However, although he did make the final approach, Colin Hinds (D) only managed a visual without R/T and since everything is IFR he had to eventually abandon his landing. On the other hand Ian Robertson (C) only managed to signal that he was somewhere in the circuit. We received his squawk, he was spotted on radar, he appeared to orbit for while and then nothing! Ian's ID appeared on radar but with no visual or R/T! Eventually he disappeared - obviously to a more attractive diversion. Colin did have an excuse for the kit not working - he is an ex-Henlow Engineer! - But Ian, no excuses, he was a C130 captain - no doubt missing his co-pilot! (We think he was offered a better diversion and is orbiting a bar in Scotland? - We're still trying to contact Ian but haven't got past Hadrian's wall yet.)

Most of the chaps landed safely
In addition to those listed above, late apologies were received from Anthony Kent (D); and Dave Archbold (A) who lives in the Cayman Inlands. Both failed to take off due to admin problems.
The meet started as an early evening pre-dinner happy hour with everyone briefing as to where they where, and the sort of life style they were being forced to live. It turned out that 11 members were spread all over the UK, and all had very similar problems. In addition we had two overseas members, Ian Clark, who was strandard in his beach house near Lima in Peru (6 hours behind BST i.e. it was 11:00 Hrs and pre-lunch drinks for him)! Ian panned his camera around his pad to make us all envious of his super location. Les Q was the other overseas member and is stranded until late June in Western Australia. Again in a beach house - in Dunsborough WA. For Les it was tomorrow and the end of a 6 hour drinking session - past 00:00 Hrs & pitch black - so no views. In summary, it appeared that despite his beach location, Ian had the worst national lock-down conditions - sounded worse than the UK - whilst Les had the best with virtually no lock-down, only a lock-in - "locked-in" in a place the size of Yorkshire where, other than closed restaurants & bars, everything was functioning normally!
Obviously everyone's concern was their age, since Covid-19 is reportedly taking it's major toll on those over 70 - US!!!! Paul Buckland reported that he had had the dreaded covid-19 - Paul reported that he had suffered terribly with all the nasty symptoms, but thankfully he had recovered. He looked well and sounded well. It was re-assuring that there is life after Covid-19. A general discussion followed on the life and death statistics being produced by the government and the press. It was generally agreed that we can't believe any of them - based on the old saying ... "There are lies, damn lies and statistics" - The only statistic that we believed was that ..."people are dying who have never died before!".
Dick Northcote - Age 17

This led us to the question of age?

We are NOT ALL 75 as previously assumed - we have youngsters as young as 74 and old people as old as 77. Quite a range - especially back in 1963 when Dick Northcote appears to be (by 1 day) the youngest 89er to join the RAF College - a mere 17 year old lad.

This compared with Grant Taylor, a fellow 89D starter - Grant was then a young man - almost 21. It also turned out that Grant was operational in the Royal Air Force longer than anyone else in 89 since he started at 16 (a Halton apprentice) and didn't stop flying until 65 (when he finished in the RAFVR as an AVO).

Grant Taylor - Age 21(ish)
Remote internet partying is a bit tricky as you cannot break down into smaller groups of 3/4 and then move around as in a bar - it is a one to 12 relationship, however, the banter continued for over an hour with members offering various solutions to putting the world right......
In conclusion it was the general opinion that we should repeat the "Zoom-in" happy hour in a couple of weeks on Thursday 7th May at the same time -17:00 Hrs. Those wishing to attend should email Chris Saunby who organises and issues the joining instructions.

Heading home after a successful "Zoom In"
See you on the 7th May?
---
2020 what an unusual start!
But comradeship survives - we are not isolated
For the surviving members of 89 it is now 57 years since we joined the Royal Air Force in what was then recognised as the best Air Force Training establishment in the world. Cranwell trained you for everything - it started in the "Pits" where as a small team you were isolated, restricted and threatened for long periods. It has eventually paid off - At aged 75 we are now isolated and restricted in even smaller teams and threatened with something even worse than a Flight Sergeant or Senior Entry - a potential killer bug!
All of 89 are now retired from the service, but although we are now recognised as "old blokes", and threatened by this alien bug, many have not retired from "service". Many 89er's are still providing the public and personal services for which they were trained. Who would have thought that all that military training would have left us fighting a bug? Those proud 18 year olds are now proud 75 year olds who, although isolated, still maintain their youthful comradeship with routine get-togethers. Like the Coronavirus itself, 89 are spread throughout the UK and the world, but Old Cranwellian's are not daunted by distance - whenever an opportunity arises, that doesn't place others at risk, the old comrades will get together.
The latest get-together is over the "air" - Sadly not zooming through the air, but using "ZOOM" on the internet!
Unusually 89 were beaten to the Bar by those young reprobates in 91 Entry - They introduced the first Happy Hour via "ZOOM". (We think it a ploy so that they didn't have to buy drinks for 89!) Mind it was led, and well led, by a would be 89er Chris Coville, so he obviously learnt something from 89. The upshot is that in the absence of being able to get together physically, 89 are now organising their own "ZOOM IN" - as soon as we get 3 greens we'll be coming into land in a lounge, dining room, study or patio near you.
In the meantime you can taste your own beer, wine or cocktail in the comfort of your own home and in the company of a bunch of fellow old farts by clicking below and signing up. The next Old Cranwellian's Happy Hour is at 17:00 Hrs BST on this Friday 17th April so give it a go even if it's just to listen and see how it works.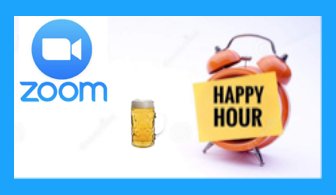 We hope to see you there!
---
The Old Fashion Reunions
Before the Coronavirus SHTF, 89ers were organising annual re-unions ....
89 B beat the other 3 Squadrons to the pub again!
A report and photographs from Geoff Dryland on the pre-Coroanvirus activities of 89B...
"2020The annual reunion for 2019 was postponed owing to a number of members unable to attend. It was deferred to 1 February 2020 when all members were able to report to the usual meeting place of the George Hotel, that is: Simon Coy, Geoff Dryland, Andy Griffin, Nigel Griffiths, Mike Laundy, Henry Middleton, Paddy Pyper, Ron Shimmons, Richard Slogrove and Tony Steel. The Guest of Honour this year was Colin Lovegrove.
Guest of Honour Colin Lovegrove, Nigel Griffiths & Richard Slogrove discussing affairs of state?

Colin followed Squadron Orders and wore his "Aeronautical" tie!

Henry Middleton & Mike Laundy discussing far more important things...

Mike's collection of champagne corks for his upmarket "Aussie" hat -

Mike could not have guessed that he and the rest of the world would be banned from entering Oz
Andy & Tony listening attentively to the pre-dinner speeches

Or is Tony playing with his little mobile?

Geoff presenting Henry with his portrait

Colin watches on in amusement as Simon request a larger glass of Champagne

The evening got under way with a pre-drinks get together, over a few drinks!! The formal drinks of "bubbly" followed, before moving on to the meal.
Before we sat down, Geoff had a few words to say (he doesn't know many). In recognition of the years of work that Henry has put in, organising our annual ritual, Geoff had painted a portrait for Henry to use as emergency fire lighting material. Henry was delighted as he was indeed running short of suitable bonfire rubbish. Mike Laundy availed himself of a painting of Snowdon and donated a sum to the Royal British Legion Poppy Appeal.

The Mob (Left to Right) - Nigel Griffiths, Paddy Pyper, Geoff Dryland, Henry Middleton, Ron Shimmons, Richard Slogrove, Colin Lovegrove, Simon Coy, Andy Griffin, Tony Steel, Mike Laundy
After a grand meal, we returned to the bar and after the public were thrown out, we continued with a few more drinks before retiring for the night.
Breakfast lasted from 8 till 10 to accommodate the early risers and the more "normal" late fall out of bed types. Henry organised the bill as usual before we all went our separate ways, agreeing that we must do this again some time!
Thanks to Geoff for his report and photographs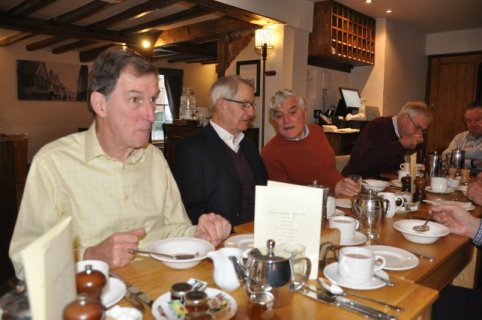 89C Annual Re-union?
After about 6 months of trying to find dates when as many 89C members as possible could attend, the members eventually agreed a 3 day, two night re-union in historic York the wartime centre of Nos. 4 & 6 Group Bomber Command. The dates scheduled were 27th to 29th April with 7 members and their wives in attendance and with a full activity programme in addition to the re-union dinner. Hotels were booked & paid, venues and transport organised - and then - LOCKDOWN!
Fortunately Les Q, who was organising the York re-union, was in Australia and managed a mini-reunion in Melbourne with John and Glenys Liddell before the worldwide pandemic broke.
The plan is to re-organise later in the year once the dust has cleared.
---

Another planned visit - postponed

Left - 89C planned to visit the astronomical clock located in York Minster. It is dedicated to the 18,000 allied airmen and women who were killed in action in WW2 whilst operating from bases in Yorkshire, Durham and Northumberland.

In front of the clock is a book containing the 18,000 names. This is turned every day with RAF ceremonial turnings 4 time a year.

Mini re-union - Outside the Melbourne Shrine of Remembrance - Left to right - John & Glenys Liddell, Jill & Les Quigley

t

One of the planned visits - The only surviving Halifax - on the former RAF base at Elvington York
---
Cranwell trained and turned young men of many nations into useful leaders

The Royal Air Force College Cranwell has not only trained many of of our own leaders, but also leaders in virtually every country in the Commonwealth. Several of these countries have overtaken the Royal Air Force in size but not in it's determination to be the best - India for example now has an air force 3 times the size of the RAF. However, the 'Father of the Indian Air Force', India's first Chief of Air Staff, Air Marshal Subroto Mukerjee was, in 1931, one of IAF's first officer's to train at the RAF College, and India, like many other air forces still maintains many of the traditions learnt at Cranwell.

So back in 1963 it was a proud moment for a bunch of 18 year old would be leaders to be joining the ranks of real leaders. Not one of us even thought about the fact that we would be "AC2s" (Colloquially known as "ERKS"), the lowest rank in the RAF for nearly 3 years. We were destined to be AC2s longer than any other entrants into the Royal Air Force! Similarly no one thought of themselves as fighting men, we just wanted to fly and serve our country. 57 years on, we cannot fly, but we can still serve by helping fight a nasty little bug and the effect it is having on our society.

Air Marshal Mukerjee
-------------------------------------------------------------------------------
Bullshit doesn't pay!
Having just moved into his new office, a newly graduated young admin officer was sitting at his desk when an airman knocked on the door. Conscious of his new position, the Flying Officer quickly picked up the phone, told the airman to enter, then said into the phone, "Yes Sir, I'll be seeing the Station Commander this afternoon and I'll pass along your message. In the meantime, thank you for your good wishes, sir."

Feeling as though he had sufficiently impressed the young airman, he asked, "What do you want?"

"Nothing important, sir," the airman replied, "I'm just here to connect your telephone."
-------------------------------------------
July 2019 - Sad News from 89C
It is with great sadness that we have to announce the death on Sunday 7th July of another 89 member - Dick Shuster AFC.

Dick had been walking his Bassett, Heidi, in a field across the road from his house in Linton-on-Ouse but was found, by local villagers, lying unconscious in the field . They tried to revive him, even using a local defibrillator, whilst calling 999. Both an ambulance and the air ambulance arrived but all they could do was pronounce Dick dead.

This was a sad day for all, particularly as it was just 2 months since his beloved wife, Shireen, had died after suffering with cancer for a protracted period.

A Royal Air Force family

Dick and Shireen were a true air force family. They had met at RAF Tengah, Singapore in 1969 when Dick was on his first tour with 81 Squadron flying Canberra PR7s. Shireen was a teacher teaching in the Tengah school. This was just before Dick became the first member of 89 to earn an Air Force Cross. Dick was just 23 (Click here to see the details)

In an RAF career that spanned 42 years Dick had just one ground tour and went on to be the last of 89 to remain in a job flying jet aircraft. Even on his "ground tour", on the Phantom simulator at Coningsby, he managed so may trips ferrying Phantoms to Aldergrove for major servicing that he was awarded the GSM with Northern Ireland clasp. (Probably the only man to get a medal for spending 28 days in the mess bar?) He retired from RAF Linton-on-Ouse, flying Tucanos at the age of 60 having officially left full time RAF employment at 55 to become an AVO (Aviation officer) and Flt..Lt. Shuster AFC, RAFVR. "Same job, same uniform, just less pay" as Dick used to say! But he enjoyed it right up to his last flight when he led a 4 ship formation in some pretty lousy weather!

Dick Shuster AFC

1944-2019
In his RAF career, as well as getting an AFC at 23, Dick managed several other unique 89 Entry & RAF achievements ....
# Dick is the only person in the RAF to get the same award as his father, the AFC, and both on the same aircraft type, the Canberra - Dick's father was awarded the Air Force Cross in the 1950's for record breaking flight in a Canberra - many years after receiving their awards father & son took to the sky together in a jet aircraft on on a very special sortie ...
To commemorate the anniversary of the Air Force Cross, Dick Shuster and his father flew a special low level sortie to deliver a specially commissioned stamp and envelope.

The Canberra

The special collectors envelope
# 1st (and we believe the only) 89er to be awarded a Master Air Pilots Certificate - Click here to see the details
# Longest serving RAF College Cranwell graduate in the rank of Flight Lieutenant - 35 years
# Never had a job that kept him on the ground - Dick's passion was flying, so on his one "ground" posting, training pilots on the Phantom simulator, he volunteered to fly more than 50 Phantom ferry flights between Coningsby and Aldergrove, Northern Ireland!
# The oldest RAF pilot ever to lead an RAF formation - At age 59 years 9 months - Click here to see the details
# Most hours strapped to a bang seat - over 9,500 Hrs
# Last 89 pilot to fly RAF Jet aircraft as PIC - 30th August 2004
---
---
89's 74 year old Wing Walker!
After over 50 years in a ground job Roger is taking has taken to the skies - the hard way!
Roger Cresswell a former "groundie" has, after 55 years in the RAF decided to show the "flyers" what the pen pushers, store stackers and elastic band winders are really made of. Roger has decided to take to the air, not in the drivers seat, a back room seat or even in the toilet - At the tender age of 74, Roger is going to stand on the wing - from take off to landing!!!! Mad? - No - bloody mad! Also bloody brave since he is doing it to raise money for a good cause - his local hospital. (Definitely a Catch 22 situation cos' it's a place he is likely to end up in!)
Anyway chaps it is up to us to help him, not into hospital, but to raise money for said place.

To sponsor Roger on this foolhardy venture please go to ......

https://www.justgiving.com/fundraising/rogercresswell

and give as much as you can.

Roger has a target, but I'm sure he would be pleased if we can exceed it.

He has promised us some photographs when the deed is done. (Probably of him in hospital?)

We wish him luck.
Roger's gone & done it

"200 feet, nothing on the clock and nowhere to sit! - But Roger keeps rolling along"

At age 74 it takes a very brave man to stand on the wing of an aircraft that is the same age as himself!

He can only be a product of 89 Entry and had spent 3 years of his youth doing wild things at the RAF College Cranwell.

Standing on a wing and being brave on the ground is easy

Hanging on whilst you're flying round a flag pole takes guts

As the old WWII song goes - "Coming in on a wing and a prayer" - This is for real with ....
Chaplain Roger Cresswell

Roger donned his old flying suit and perpetuated the old Cranwellian "have a go" spririt.

There will not be many people of his age who could do it, never mind volunteer to do it for the benefit of others!

So 89 Entry and our supporters please donate generously to Roger's chosen charity..,,

Go to - https://www.justgiving.com/fundraising/rogercresswell

Make your donation now
Click here to return to the top