For the Korean War site by Simon Coy

Email your photos & stories
to 89@amco999.com
Cranwell
LINKS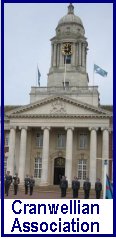 RAF College Cranwell
A sad end to 2016
It is with deep sadness that we announce the death, on Christmas day, of Vince Yates one of 89's stalwarts. Dick Northcote, one of Vince's closest friends and a fellow D Squadron member writes ....
Vince September 1963

Vince was a one off. Larger than life, always ready for a trip to to the local pubs and keen on his football and cricket. Unfortunately his RAF career was cut short following ejection from a Hunter on his first tour in Tengah, Singapore. Thereafter, with back problems, he felt he could no longer fly and after several attempts at civilian jobs, started his own business as a financial consultant.

Vince was always keen to help others and this came across in his business; he took a fledgling company from start-up to become a highly successful financial consultancy in his local town of Evesham.. He also became well known in in the local area for his voluntary work serving for some years as a prison visitor helping with rehabilitation work. Laterally, ill health forced him to retire and he had difficulty attending 89 Entry Reunions but he will be sorely missed by all who knew him particularly those members of 89 Entry who he considered as life long friends.

RIP Vince Yates (1944 – 2016)
---
Celebrating 50 years since Graduation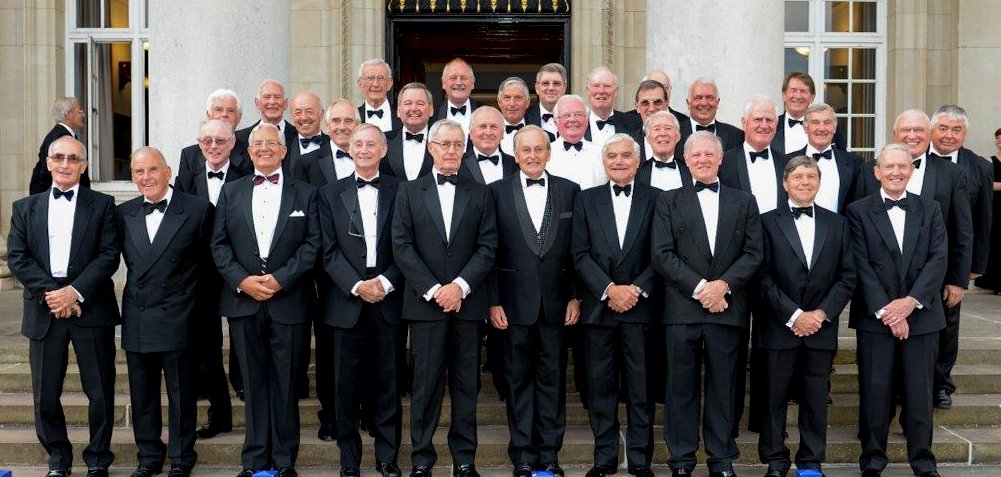 The 31 who could make it - not a bad turn out for bunch that have surpassed 3 score + ten
(Left to right)
Front - Black Robertson, Pete Squire, Roger Cresswell, Geoff Dryland, Richard Slogrove, Nigel Griffiths, Henry Middleton, Alan Ferguson, Chel Hibbert, Ian Clark
Middle - Jock Reid, Ian Robertson, Mike Laundy, Simon Coy, Barry Chalkley, Pete Crispin, Colin Hinds, Paddy Pyper, Brian Synnot, Derek North, Dick Shuster
Rear(ish) - Chris Saunby, Alan Macdonald, Malcom Coe, Malc Caygill, Grant Taylor, Anthony Kent, Dave Donnelly, Andy Griffin, JC Newland (hiding), Les Quigley, Dave Harlow
Cranwellian Association Reunion Weekend 2016 23-24/ July
As usual the 89 Entry re-union was held within the Old Cranwellians weekend at the RAF College. With the demise of the Old Cranwellians, which was restricted to those who had served as "Flight Cadets" on a 2 or later 3 year course, and the rise of the Cranwellian Association which is open to all officers who trained at Cranwell, a different weekend was expected. We expected more of the younger fraternity. In the event there were very few younger Cranwellians. The turnout was virtually all the older generation with 89 Entry representing the younger end. With a bunch of 70+ year olds being at the younger end it was 89 that had to maintain a late night bar presence.
In the event the weekend was a little different with with a sunset ceremony and a Spitfire fly past. We also had a chance to find out a little more about the current state of the Royal Air Force and the College. The evening followed its normal pattern with much banter during pre-dinner drinks, dinner and in the bar after dinner. 120 Cranwellians attended including the current CAS Air Chief Marshal Sir Stephen Hillier. The guest speaker was Rory Underwood who entertained us for a while with his tales of Rugby and the RAF.
Throughout the weekend Geoff Dryland acted as the unofficial 89 Entry photographer. In true 89 style Geoff arrived in his Rolls Royce, parked it on the parade ground in front of the college and commenced his unofficial duties poking his camera up many noses! Unfortunately his Rolls got up the nose of the College authorities so it had to go! Nevertheless Geoff continued ..
"Move that vehicle!!! - Sir!"

A better Rolls arrived during the sunset ceremony

(Although it did sound like a Griffon)
Signing in & afternoon tea
| | |
| --- | --- |
| Dick Slogrove, Henry Middleton, Andy Grffin & Alan Macdonald | Brian Synnott, Ian Robertson, Dave Harlow & Jock Reid |
Pre-dinner drinks
| | | |
| --- | --- | --- |
| Chel Hibbert & Pete Squire | Malc Caygill, Les Quigley & Mike Laundy | Pete Crispin & Dave Donnelly |
Dinner
I don't remember you in 89?

The Doc & Derek North

Dave Harlow, Dick Shuster & Dave Donnelly

Paddy Pyper, Black Robertson, Barry Chalkley, Ian Clark & Malcolm Coe
AFTER DINNER
The dinner finished with a bit of an anti-climax since the traditional post horn gallop played by members of the RAF College band was missing. We guess that it is indicative of the RAF in the last 50 years - at our 25th reunion dinner we had 3 trumpeters, 40th 2 trumpeters, 45th 1 trumpeter and 50th - NONE. However, the disappointment did not dim or desire for a drink - we hit the bar and enjoyed the rest of the evening.
Sadly Geoff Dryland had obviously enjoyed too much gin, wine, port and beer for his assignment as 89 Entry official photographer seems to have come to an abrupt end!
The weekend continued with a full church parade the next day and terminated in traditional style with someone setting fire to the College - well at least that is what the fire section thought! - A re-run of our 40th in 2003!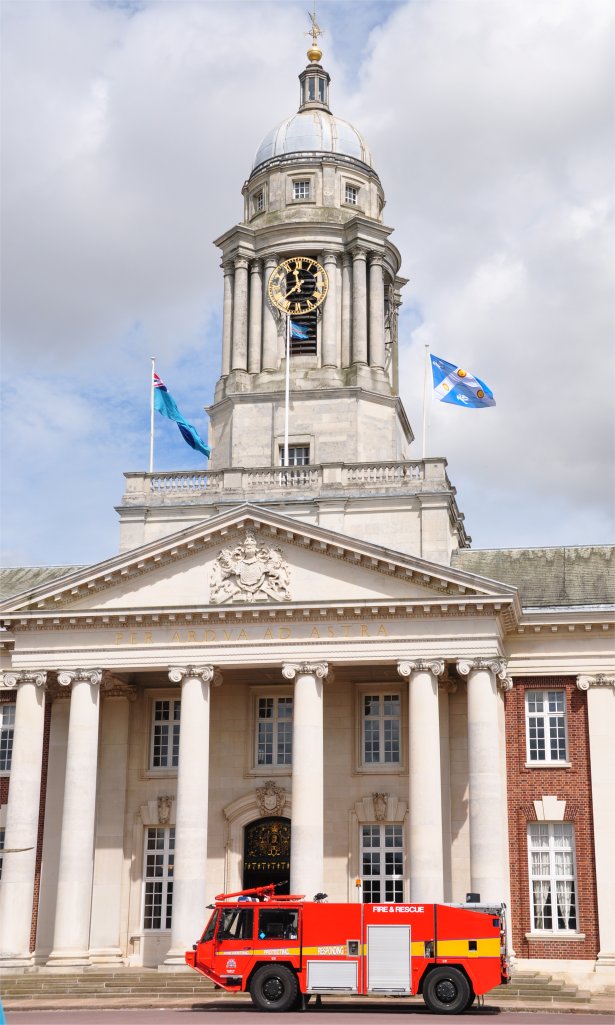 Even in our 70's 89 Entry, Cranwell's best, is still on fire
------------------------------------------------------------------
89's UNIQUE HISTORY?
The longest serving Entry ever to serve as cadets at Cranwell !
Derek North recently reminded us that, not only were we probably the best cadet Entry to pass through the RAF College Cranwell, (other Entries may argue, but just look at our charge sheets!), but also we were the longest serving Entry ever to serve as cadets at Cranwell. We "signed to serve Her Majesty" on 9th September 1963 in the exalted rank of AC2 (Aircraftsman 2nd class (AC2) - or "AC plonk" as it was known colloquially. Its members were collectively known as "erks").
In 1964 the rank of AC2 was abandoned so 89 Entry cadets were all promoted to "Aircraftsman" , a rank which we retained until graduation on 18th August 1966. Again we were probably the longest serving RAF personnel to hold the rank of Aircraftsman since it was a rank only used for airmen in training and no one in the RAF trained for 3 years, except Cranwell Cadets!
Quoting Derek ......

"I notice that 89 Entry is correctly down as celebrating the 50th anniversary of graduation this year, but the wrong date is quoted. We graduated on 18 August 1966 and not the 15 July mentioned. The latter was the originally planned date, but this was postponed to August to fit in with the new 30 month courses, making us possibly the longest ever course – and causing many grumbles at the time. At least our seniority was subsequently backdated to 15 Jul 66 but I can't remember if we also received the back pay?"

Left - Group Captain Derek North RAF Rtd.
The last Entry at the RAF College to have to wear hats in civilian clothes!
Another unique feature of 89 Entry is the fact that we were the last entry to have to wear hats when in civilian clothes. This was a regulation set back in the founding days of the College. I guess it was to distinguish the cadets from others and to ensure that we were proper gentlemen, raising our hats in salute to officers and ladies. In the early 60's "Bowlers" (as worn by the actor playing Douglas Bader in the film "Reach for the Sky") and "Trilbies" went out of fashion. "Pork pie" hats were in. We must have looked like a bunch of "barrow boys from the East End" when in "civvies", especially on Wednesdays and Saturdays when visiting other sports teams, so I guess Air Commodore Lyne persuaded the Air Ministry, as it was then, to cancel the regulation! (The Air Ministry disappeared as an independent Ministry in 1964 and became part of the new Ministry of Defence.)
---
50 years since leaving "The RAF College"
On the 9th September 1963, 69 young men, all just 17 to 18 years old, joined the Royal Air Force. These young men had decided to dedicate themselves to Queen & Country by joining the Royal Air Force via the most difficult route possible - via the Royal Air Force College Cranwell. These young men had become "Flight Cadets" in 89 Entry!I
It was a time when young men didn't think about what they would earn or how you would earn it, they just wanted to serve in the RAF! - This was just as well as the starting pay was just 14 bob a day (70p in today's money). This would just about buy you 6 pints of beer. (Compare this with today's starting pay which buys around 20 pints!).
The South Brick Lines - built 1915

Known to the "inmates" as "The Pits"

From day one, Flight Cadets (whose actual rank was "AC2" - the lowest in the RAF) certainly earned their 14 bob a day, but for over 3 months they didn't get the opportunity to buy that beer! They were awakened at 06.30 Hrs, they started work at 08.00 Hrs, and were lucky to finish work by lights out at 22.30 Hrs. (Mind they were allowed "free time" Sunday afternoons, after Church Parade, to "bull up" their First World War huts.)

For the first 4 months of a Cadet's life, the RAF College became an open prison. First term Cadets lived in "the pits" (5 to a hut), were not allowed to drink alcohol, were not allowed out of the base and had to wear a hat at all times in or out of uniform! In 1963 there were no guards or security fences around the base, but if you tried to escape for a pint, even in "civvies", you would immediately be identified as an escapee since you would be the only 18 year old wearing a hat! Escaping, therefore, was not an option - Getting caught breaking any rule, no matter how trivial, meant "Strikers" - "Strikers" involved being restricted to base (you were already!), and in addition to your normal 16 hours or work, you had to fit in 2 arduous drill parades and a full kit inspection each day of your sentence - all at the most unsocial times that the powers that be could think up - 07.00 Hrs, 18.00 Hrs and then 22.00 Hrs, thus making the open prison into a closed prison!
It wasn't all bad, in fact much of it was great fun - some of us actually got paid to fly nice little jets. Eventually, after 3 years in July 1966, the 89 Entry survivors escaped and using the vast amount of knowledge and experience gained at the Royal Air Force College, they prospered both in the RAF and in the wider world. Some of those who joined in September 1963, didn't survive the 3 years but 89s numbers were swelled in our final year with dozens of new faces when the RAF Technical College at Henlow closed in December 1965 and their cadets were absorbed into Cranwell.

Sadly many of the 1966 graduates are no longer with us on this earth and some have disappeared into the wider world, however despite this, 89 fielded 31 survivors at the 2016 reunion. An additional 5 members apologised for not being able to make it.
---
2015 was a year of individual squadron re-unions
B Squadron have held annual re-unions for many years the first recorded on this website being 11 years ago in 2004. C Squadron, not to be outdone, commenced in 2005. C Squadron started their reunions with the standard all male affair but soon branched out, on a less regular basis than B Squadron, but on a more exotic basis travelling overseas with wives also being invited. In 2014 A Squadron, who needed to play catch up, also commenced holding annual re-unions. So we now have 3 of our 4 squadrons holding reunions.
No doubt the old boys of D Squadron will eventually catch up with the other 3 squadrons? (In fairness they occupied the last wing to be built at the RAF College Cranwell, several years after the college was built and some time after world war 2, so they have an excuse for being last!)

Left - The RAF College in 1933 (less the D Squadron wing)
89A - October 2015
Ensuring that they stay ahead of the game A Squadron were first to get their re-union photos to 89 News, however, in true military tradition they kept the location secret, holding it "somewhere in England". They also kept their activities secret, but we are grateful to Tony Ware for smuggling out photographs of the event - their 2nd annual re-union. (They did supply photographs last year but again failed to supply any support information so the editor (like all newspaper editors) has just had to make up a story!)
Those attending were Barry Chalkley, Ian Clark, Roger Creswell, Peter Crispin, Alan Ferguson, Black Robertson, Peter Squire, Tony Ware. Jerry Pook and Chel Hibbert were also schedule to attend but were beset with illness and personal problems. Nevertheless, it was an excellent turnout and highly commendable after 50 years apart

Right - (Facing) Alan Ferguson, Pete Squire, Pete Crispin, Barry Chalkley

Below - (Facing)) Ian Clark, Roger Cresswell, Alan Ferguson, Pete Squire

Below Right - Black Robertson & Pete Squire
Right - There's always someone taking the pith at a Squadron party!

Below - Alan Ferguson, Ian Clark, Barry Chalkley
Thanks to Tony Ware for sending the photographs (and we assume - taking them - since he's not on any)
---
89 B - October 2015
Geoff Dryland, who supplied all 89Bs photographs, assures us that they were first to hold a squadron reunion this year just a few weeks ahead of A Squadron. He also reported that they are definitely getting older since they all arrived in the late afternoon, did not get a cup of tea on arrival, and then had to lay down before getting dressed for dinner in a hurry!

The "B" team at dinner - (Left to Right) - Andy Griffin, Jerry Pook (Guest of Honour from A Squadron), Dick Slogrove, Mike Laundy,
Henry Middleton, Simon Coy, Nigel Griffiths, Paddy Pyper, Tony Steel, Geoff Dryland
| | |
| --- | --- |
| Mike Laundy & Tony Steel | Henry Middleton & Jerry Pook |
Geoff reports that "Not many funny comments I'm afraid - Only the one came from Mike Laundy whilst taking his soup. "Waiter there's a turd in my soup". Then Jerry Pook with his napkin to his mouth "Oh my God I had one of those, I thought it was a gherkin". Considering that Geoff reported few funnies, there seems to be an awful lot of happy faces.......
The smiles soon returned to thoughtfulness when the current state of the RAF was discussed...
| | |
| --- | --- |
| Paddy Pyper, Nigel Griffiths, Andy Griffin | Dick Slogrove, Nigel Griffin |
| | |
| --- | --- |
| Paddy Pyper, Geoff Dryland, Jerry Pook, Simon Coy | Henry Middleton & Andy Griffin |
A few more drinks, talk of the good old days and the everything is back to normal so another successful 89B reunion!
---
89C December 2015
It was hoped to convene an 89C reunion earlier but with 3 of our members still hard at work (well "working") and others travelling, the earliest 89C could get together was December. Chris Saunby was the 89C whipper in and by mutual consent we chose to meet at the Haycock Hotel, just off the A! south of RAF Wittering - one of the few RAF airfields left! Like all good re-unions it started in the bar. However, unlike other reunions we chose to bring our wives since they all know each other - many from our Cranwell days. Sadly Dick and Shireen Shuster could not make it as Shireen was having treatment for cancer. We send Shireen our best wishes and our hopes for an early recovery. Keith Jackson sent his regrets that he and Sue would not be able to attend.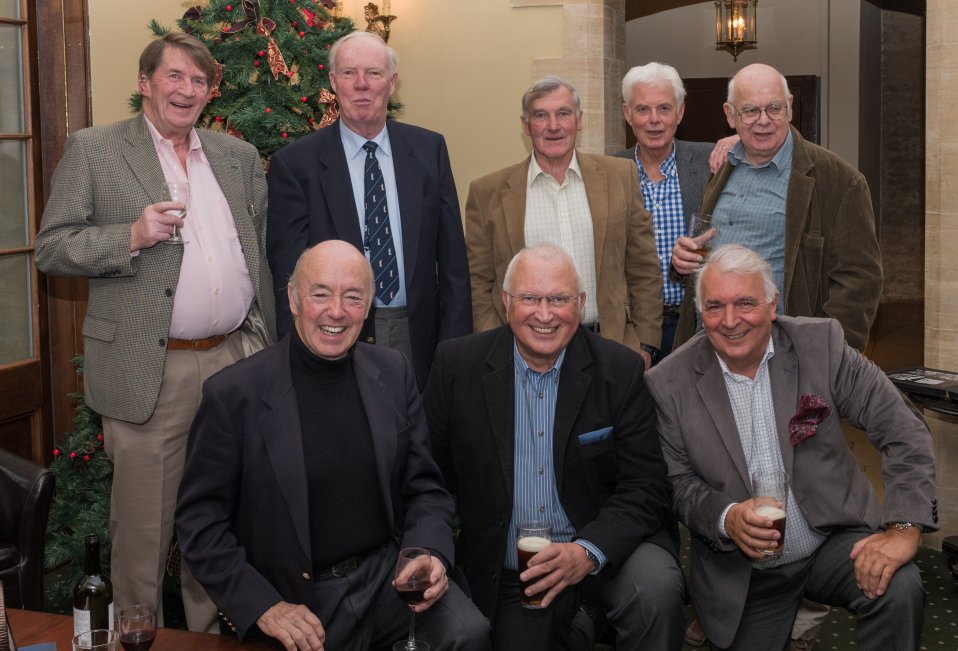 89C Survivors - Back row - Dave Harlow, Dave Donnelly, Brian Synott, Chris Saunby, JC Newland
Front row - Ian Robertson, Derek North, Les Quigley
Unlike our compatriots in B Squadron we were welcomed with afternoon tea and certainly did not need an afternoon kip. This despite us having less hair between us than the other squadrons. (Apart from Dave Harlow that is - and anyway we think that's a wig?)
Les Quigley checking Ian Robertson's ears

(Something about an ear fetish that he had heard about!)

Brain Synnott watching as Liz Synnott gets an ear "bashing" from Ian - Dave Harlow watches on enviously
| | |
| --- | --- |
| Dave Donnelly briefing his wife Anna and Val North on 89C Mess rules - i.e. anything goes! | Dave Donnelly and Derek North catch up over afternoon "tea" |
After the welcoming afternoon tea party - 89C dressed down for dinner and set about the food and drink...
Left to right - Dave Donnelly, Jill Quigley,Dave Harlow, Liz Synnot, JC Newland, Kate Saunby,

Derek North, Anna Donnelly, Carro Newland,les Quigley, Pat Robertson, Brian Synnott,

Liz Harlow, Ian Robertson, Val North

Left to right - Pat Robertson, Brian Synnott, Liz Harlow, Ian Robertson, Val North
Left to Right - Dave Harlow, JC Newland,Carro Newland, Brian Synnott,

Liz Harlow, Chris Saunby

Left to Right - Dave Donnelly, Kate Saunby, Pat Robertson,

Anna Donnelly, Carro Newland
Dave Harlow, Liz Synnott, JC Newland

Left - Derek North demonstrating a U P
After an excellent dinner, lots of chat and a few drinks the old boys of 89C and their ladies retired for a good nights sleep. Next morning we met for breakfast and made our farewells with a promise to meet again in 2017.
---
50 Years on - How the RAF has changed
Comparing like with like is always difficult with historic data, as life, technology and political circumstance change, however, history is interesting and so are the statistics associated with history.
89 Entry is history, so let's examine some of the basics...
1945 - Most of 89 Entry were born in late 1944 and in 1945 when the Royal Air Force was at its peak with over a million men and women in uniform. At that time it had some 9,200 operational aircraft with over 1,000 UK bases and around 200 overseas bases. (Click here for details of operational aircraft. You can find a list of most, but not all, the wartime bases in Wikipedia by clicking here.)
1963 - When 89 Entry entered the RAF College, the RAF had about 140,000 personnel, around 2,000 operational aircraft, with 200 UK bases and 30 overseas bases (Click here for details of flying bases and squadrons) - (NOTE - All the aircraft were British designed & built)
2013 - 50 years on, from when 89 entry arrived at Cranwell, the Royal Air Force now has 37,000 personnel in uniform,. 760 aircraft*, 45 (35 manned) UK bases and 5 overseas bases. - (Note - 63% of the aircraft are British built, but only 13% are of sole British design - How times have changed!)
Click here to return to the top